This section provides an overview for pump pistons as well as their applications and principles. Also, please take a look at the list of 20 pump piston manufacturers and their company rankings.
What Is a Pump Piston?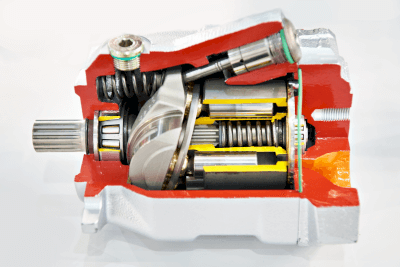 Pump pistons are pumps that supply and transfer liquids and gases through the reciprocating motion of a piston.
The pump piston moves liquid or gas by utilizing the volume change that occurs when the cylindrical piston moves in a linear reciprocating motion inside the cylinder of the pump housing. The simplest pump piston, a combination of a piston and two valves, has long been used for wells and other applications. Due to their high discharge pressure characteristics, they are also widely used in industrial fields.
Pump pistons are positive displacement pumps. Positive displacement pumps include gear, vane, screw, scroll, plunger, and diaphragm pumps.
Uses of Pump Pistons
Pump pistons are relatively simple in construction and easy to handle and have long been used daily as pumps for manual wells and kerosene pumps. Other specific uses of pump pistons are as follows:
Drainage systems in industrial production lines, transfer systems for highly viscous liquids, water, sewage lines, high-pressure gas lines, etc.

Transfer and quantitative filling of food oils and materials, cosmetics, medicines, reagents, electrolytes, shampoos, conditioners, additives, fragrances, etc.

Hydraulic pumps for construction vehicles, steel, shipbuilding, machine tools, industrial machinery, etc.

Conveying sewage dehydration cake, sewage dehydration sludge containing foreign matter, coal slurry, etc.
Principle of Pump Pistons
The basic operating principle is the same for all pumps: liquid or gas is transferred by repeated suction and discharge. Pump pistons have valves at the inlet and discharge ports to prevent backflow and apply pressure.
Three factors determine the capacity of a pump piston: piston diameter, stroke, and the number of pistons. The number of revolutions determines the flow rate. The characteristics of the pump are shown in a chart with the flow rate on the horizontal axis and the pressure on the vertical axis. The characteristics of pump pistons for liquid applications are characterized by a minute change in pressure concerning flow rate.
Among Pump pistons, axial and radial types allow for a continuous change in capacity. Even if the required capacity changes, the capacity can be changed without changing the rotation speed, making control easier and saving energy.
Features of Pump Pistons
Capable of Handling High Pressure
Pump pistons have higher pressure resistance than other pumps and can handle up to 50 MPa class pressures. Pump efficiency is also high.
Expansion to Variable Displacement Type
Axial and radial-pump pistons are relatively easy to be used in variable displacement pumps.
Use as a Motor
Axial and radial pistons can be used as motors because the pump and motor are basically of the same design. The pump and motor can be connected to transmit power.
Types of Pump Pistons
Pump pistons are broadly classified into axial, radial, and reciprocating.
Axial Type
The pistons are arranged in a direction close to the drive shaft and are classified into two types: the axial type and the swash plate type, depending on the method of reciprocating motion of the pistons. The same structure can also be used for motors, making it the most commonly used positive displacement pump.
Axial pump pistons can be made into a variable displacement type by changing the angle of the swash shaft or swash plate, thereby changing the pushing volume by the piston. It can be continuously changed from zero to maximum volume.
Radial Type
This is a method in which multiple pistons are arranged in a radial annular arrangement in relation to the drive shaft, and eccentric cam rings or cams reciprocate the pistons. In an eccentric radial pump using an eccentric cam ring, the pistons reciprocate as the pistons, and the entire cylinder block rotates. It can also be used as a motor.
Eccentric radial pumps can be variable displacement type by changing the eccentricity of the cam ring and have excellent response.
Reciprocating Type
A crankshaft or cam drives reciprocating pistons. In parallel, there are several reciprocating pistons, including single, double, and multiple pistons. There are valves on the inlet and discharge ports, making them unsuitable for motor applications. Although the size and weight are structurally larger, it can handle relatively high pressure compared to other methods.
*Including some distributors, etc.
*Including some distributors, etc.