This section provides overview, applications, and principles of screw pumps. Also, please take a look at the list of 9 screw pump manufacturers and their company rankings.
What Is a Screw Pump?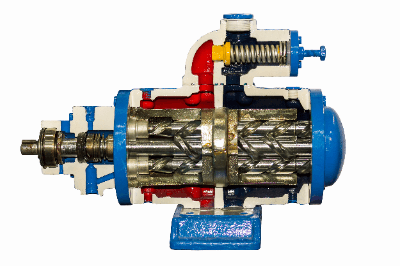 A screw pump is a type of rotary pump, also known as a positive-displacement pump.
This type of rotary pump transfers fluid flowing inside in the axial direction of the screw by rotating the screw inside the cylinder.
Depending on the number of screws, there are 1-axis screw pumps, 2-axis screw pumps, and 3-axis screw pumps.
Applications of Screw Pumps
Screw pumps can be used to transport low to high viscosity liquids, liquids containing solids, and powders, such as food, cosmetics, crude oil, sludge, sludge, waste oil, and waste liquids.
This is due to their relatively simple structure and ease of cleaning and maintenance.
They are used to transport a wide variety of fluids in a wide range of industries, including urban sanitation, shipping, food industry, paper and pulp, mining, civil engineering and construction, chemical industry, cosmetics, paint, and steel manufacturing.
*Including some distributors, etc.
*Including some distributors, etc.