This section provides an overview for magnetic pumps as well as their applications and principles. Also, please take a look at the list of 10 magnetic pump manufacturers and their company rankings.
What Is a Magnet Drive Pump?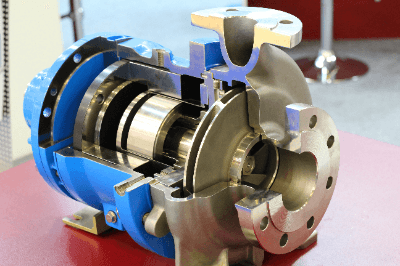 A magnet drive pump is a type of centrifugal pump that differs from other centrifugal pumps in one major characteristic. In an ordinary pump, the impeller and motor are directly connected, so a seal is required to prevent the leakage of liquid. A normal pump has a gland packing and a mechanical seal, but the gland packing needs to produce a certain amount of fluid constantly, and if the mechanical seal breaks, the fluid inside may leak.
On the other hand, the magnet pump rotates the motor and impeller via magnets, so there is no place where fluid can leak. Therefore, they can be safely used in environments with corrosive fluids.
Applications of Magnet Pumps
Magnet pumps are used in places where liquids must not leak. For example, in chemical lines such as hydrochloric acid and caustic soda. If a leak were to occur, it could cause serious damage. Therefore, gland packing is prohibited, and mechanical seals are not recommended because of the possibility of leakage in case of failure.
In such a situation, a magnet pump with zero external leakage is the most suitable pump. In addition, magnet pumps are sometimes used in ordinary water lines to reduce maintenance costs.
Principle of Magnet Pumps
Unlike ordinary pumps, magnet pumps do not have a direct connection between the motor and the impeller. Instead, the impeller is rotated via a magnet attached to the pump shaft and a magnet attached to the impeller.
As a result, there is no penetration of the shaft into the sealed container in which the impeller is housed, so there is no external leakage. As a result, the pump can be used as a normal pump despite zero external leakage.
If the impeller and sealed container are made of materials such as polypropylene or PTFE, it is possible to make a pump with high corrosion resistance that can be safely used for chemicals.
However, this structure does not allow water or oil supply to the bearings from the outside, so the bearings are lubricated and cooled by the process fluid. Therefore, a dry operation is strictly prohibited, or the bearings will seize, and the pump will be damaged. Because of these precautions, an ammeter or similar device must be installed to monitor dry running when using a magnetic drive pump.
Note that the motor size may be about one size larger than a pump with a directly connected shaft. Although there is not much difference nowadays when pumps are operated 24 hours a day, one size difference can make a big difference in power, so care should be taken.
Difference Between a Magnet Pump and a Diaphragm Pump
While a magnet pump is a volute pump that rotates an impeller, a diaphragm pump is a positive displacement pump that repeatedly suctions and discharges by reciprocating a membrane called a diaphragm. Also, while a magnet pump pumps liquid using a rotary motion, a diaphragm pump pumps liquid using a reciprocating piston motion.
Both are often used in chemical lines, but magnet pumps tend to be more hazardous for liquids. This is because the liquid is infinitely leak-proof. Diaphragm pumps, due to their structure, may leak liquid from flange surfaces, etc. Magnet pumps are superior in terms of preventing leakage. However, diaphragm pumps are easier to maintain and cost less because of their lower unit price.
Causes of Magnet Pump Failure
Although magnet pumps can pump liquid without leaking it outside, they can break down relatively easily if used improperly. Typical causes of failure are described here.
1. Running Dry
Although not limited to magnet pumps, dry running often leads to bearing damage and failure. It is important to have several people, including the operator and maintenance staff, check the pump before an operation, since it is easy to forget to let fluid flow through the pump during operation, whether after long-term pump stoppage or after temporary maintenance during trouble.
2. Clogging
There are various types of clogs. If the inlet side strainer is blocked, the pump will run dry, and the bearings will seize. Also, the pressure pumped will be less. If the outlet-side strainer is blocked, the pump is in closed operation, which also puts a load on the pump and leads to failure. If the impeller or case is clogged, the pump will not operate because it will not rotate in the first place.
Since both of these problems can easily lead to failure, extreme care must be taken when using fluids that have a tendency to stick or are vicious.
*Including some distributors, etc.
*Including some distributors, etc.