This section provides an overview for optical sensors as well as their applications and principles. Also, please take a look at the list of 3 optical sensor manufacturers and their company rankings. Here are the top-ranked optical sensor companies as of June, 2023: 1.First Sensor, 2.Hamamatsu Photonics.
What Is an Optical Sensor?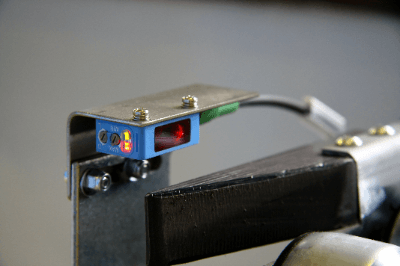 An optical sensor, also called a light-receiving element, is also a semiconductor device. It is one of the auxiliary devices that detects various light properties by converting them into electrical signals and is an accessory device that makes up a machine. The technology of optical sensing is used as a method of sensing light. And there are various types of light sensors for all kinds of situations. A wide range of sensors have been developed, from those that detect whether a light object is within a specified value and pass if it is ON and fail if it is OFF, to types that provide notification and highly sensitive sensors that can detect single photons.
Optical sensor is also used in motion sensors for automatic doors. The sensor's response is fast, so there is no extra time lag. In addition, because they operate by detecting light, they do not require contact with people or objects, and they do not lead to contamination of the objects they detect. Therefore, the sensor can be used with peace of mind. For these reasons, an optical sensor is used in industrial and consumer applications.
Light includes visible light and invisible light, such as ultraviolet and infrared rays. Therefore, when selecting an optical sensor, it is necessary to choose a sensor that is appropriate for the wavelength.
There are two types of light sensors: those using semiconductors such as photodiodes and those using photomultiplier tubes.
Uses of Optical Sensors
In recent years, the automation of devices in our daily lives has been increasing, and the applications of optical sensors are expanding. Typical examples are remote controls for TVs and audio equipment. These remote controls move in response to infrared rays, so optical sensors for infrared rays are used. They are also used in camera autofocus and image sensors. Other light sensors are also used in washbasin faucets, which automatically switch on and off when they detect a person's hand.
Once you step out of your house, light sensors are used everywhere in our daily lives.
In automated teller machines (ATMs), optical sensors are used for "card detection," "bill detection," and "internal mechanism detection." In ticket machines, they are used for "coin detection," "ticket detection," and "bill detection." A motion sensor is used to turn on the lighting when someone enters the restroom, and to turn off the lighting when no one is in the restroom, contributing to energy saving.
Optical sensors are also used to test the sugar content of fruits, and demand is increasing because they can measure sugar content without damaging the fruit. Sugar content can also be measured by applying the principle that the more sugar and acid components dissolved in fruit juice, the greater the refractive index of light.
They have also been applied to astronomy. In the past, astronomical images were recorded on photographic dry plates, but since the 1990s, charge-coupled devices (CCDs) have been adopted.
Optical Sensors Technology
In recent years, optical sensors technology has made remarkable progress. In the industrial field, nondestructive testing is an inspection method that can examine the status of an object without destroying it. In this inspection method, an object is exposed to radiation or ultrasonic waves to determine the degree of damage without destroying the object. Optical sensors employ a method called near-infrared spectroscopy, which is similar to this type of inspection method. Near-infrared spectroscopy is used in near-infrared spectroscopic sensors and is a mechanism that does not affect the object being observed. Infrared rays are classified into "near-infrared rays," "mid-infrared rays," and "far-infrared rays," of which near-infrared spectral sensors handle near-infrared rays.
Near-infrared spectroscopic sensors can observe a wide range of materials, from inorganic materials to organic materials. For example, they are used in conjunction with machine learning to check the deterioration of concrete in inorganic materials, and in organic materials to observe the amount of fat in the bodies of people and fish.
In this way, the technology of optical sensors is still evolving, not only in one field but also by incorporating additional technologies.
Principle of Optical Sensors
There are many detection methods for optical sensors. The two main types are the transmission type and the retro-reflection type. The transmissive type requires a light-emitting projector and a light-receiving receiver, and reacts when there is an obstruction between them. In the retro-reflective type, the projector and receiver are integrated into a single unit, and the light emitted from the projector is detected when it is interrupted by a reflector bouncing back.
In principle, there are also two types of sensors, one using the internal photoelectric effect and the other using the external photoelectric effect.
Internal Photoelectric Effect
This type of sensor uses semiconductors, as typified by photodiodes, and utilizes the photovoltaic or photoconductive effect. Silicon cells cover the visible light range, while germanium cells cover the UV to IR wavelengths. CCDs often used in cameras are in the visible light range.
External Photoelectric Effect
When light is irradiated, electrons are ejected from the cathode and collected on the anode for amplification and detection. Sensors using photomultiplier tubes can detect a wide range from the vacuum ultraviolet region to 1700㎛. Sensors using phototubes can also detect from ultraviolet light to visible light.
Features of Optical Sensors Products
Optical sensors products are available in the following types, which are designed to match the detection target and have features in the optical path.
1. Transmissive Photo Sensor
The light emitted from the light-emitting element has a U-shaped structure with both elements facing each other, so that light emitted from the light-emitting element hits the light-receiving element with a certain distance between them. The light emitted from the light-emitting element is measured at the output of the light-receiving element, which changes depending on the obstruction. 
2. Separate Photo Sensor
The light emitting element and the light receiving element are separated in a package, and the distance between the long sensors can be realized to allow any desired setting.
3. Reflective Photo Sensor
Light emitting and light receiving elements are aligned in the same direction or mounted at a certain angle. Light from the light emitting element is shone on a certain detectable object, and the light reflected from it is measured by the light receiving element.
4. Prism Photo Sensor
Light emitting and light receiving elements are aligned in the same direction and mounted on a prism between the light emitting and light receiving elements to make measurements.
5. Actuator Photo Sensor
By combining a transmissive photo sensor with an actuator (lever) that rotates, the sensor is shut off by the lever to perform mechanical discrimination.
*Including some distributors, etc.
*Including some distributors, etc.