This section provides an overview for humidity sensors as well as their applications and principles. Also, please take a look at the list of 6 humidity sensor manufacturers and their company rankings. Here are the top-ranked humidity sensor companies as of September, 2023: 1.sauermann, 2.PARKER HANNIFIN JAPAN LTD, 3.ALPS ALPINE CO., LTD.
What Is a Humidity Sensor?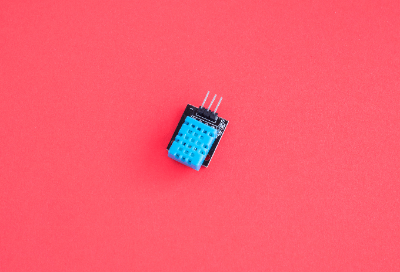 A humidity sensor is a sensor that measures humidity in the air.
Generally, it refers to a sensor that measures the relative humidity of the saturated water vapor content. It is sometimes used in combination with a temperature sensor in the form of a temperature/humidity sensor. Of course, there are also humidity sensors that detect absolute humidity, but humidity sensors that detect relative humidity are more common.
Humidity sensors are used not only in home appliances such as air conditioners and dryers but also in machine maintenance and food processing.
Uses of Humidity Sensors
Humidity Sensors are widely used in home appliances, office automation equipment such as printers, air conditioning in homes, buildings, and facilities, and industrial facilities such as factories and warehouses.
Examples of each application are as follows:
1. General Household Products
Humidity sensors are installed in products for general household use. For example, they are used in air conditioners, refrigerators, automobiles, dryers, air purifiers, humidifiers, etc. Humidity sensors are indispensable for air conditioning products that regulate the air environment. 
2. Office Automation Equipment
Humidity sensors are also used in office automation equipment such as printers, etc. Since office automation equipment does not tolerate extreme dryness or humidity, humidity sensors are used to measure the external environment and prevent equipment malfunctions.
3. Industrial Applications
Humidity sensors are also widely used in industrial applications. They are used to control humidity in food processing plants and plant cultivation plants, as well as in semiconductor and other manufacturing sites and storage areas. Humidity sensors are also used in places where humidity control is important, such as in the manufacturing and operating environments of medical equipment and in the aerospace industry.
4. Storage Applications
Humidity control is also very important in the storage of exhibits in museums and art galleries. Therefore, humidity sensors play an important role in controlling humidity in storage locations.
Principle of Humidity Sensors
Humidity sensors are built to measure relative humidity. A humidity sensor measures the humidity in the air and calculates it as a relative value to the saturated humidity at the temperature in the environment to derive the relative humidity.
Humidity sensors meant to measure absolute humidity, on the other hand, measure the amount of water vapor per cubic meter in the space. This absolute humidity is independent of temperature and indicates the amount of water vapor in the space, and is also called volumetric absolute humidity.
Types of Humidity Sensors
Electronic polymer humidity sensors are the most common type of humidity sensor and are further classified into "resistance change type" and "capacitance change type." Both types consist of an electrode and a polymer membrane, and changes in humidity due to moisture absorption by the polymer membrane are extracted as changes in electrical signals between the electrodes.
1. Resistance-Type Humidity Sensor
A resistance-type humidity sensor detects electrical signals corresponding to changes in humidity by capturing changes in electrical resistance. It has a structure in which electrodes in the shape of a comb are arranged so that they face each other, and a polymer membrane is arranged to fill the gap between the electrodes facing each other in the shape of a comb.
When the polymer membrane absorbs moisture and water is adsorbed, the ions in the membrane can move freely, and the resistance of the membrane changes due to these ions. This change in membrane resistance causes a change in resistance (impedance) between the electrodes, so humidity can be detected by the change in electrical resistance.
Humidity sensors of the electrical resistance change type have a simple structure and can be mass-produced. They are also relatively inexpensive and durable, and since they measure electrical resistance, they have the advantages of being resistant to noise and suitable for areas with high humidity. However, it has the disadvantage that detection does not work well when humidity is low.
2. Capacitance Change Type Humidity Sensors
The "capacitance change type" humidity sensor applies capacitor technology to detect electrical signals corresponding to changes in humidity by capturing the electrical capacitance. It consists of a moisture-permeable electrode placed between a dielectric of a polymer film such as cellulose or PVA, which absorbs moisture, and an electrode on top of a regular electrode.
On the moisture-transmitting electrode side, moisture in the air is absorbed by the polymer membrane regardless of the presence or absence of an electrode, and the capacitance of the polymer membrane dielectric changes according to the amount of moisture absorbed. As a result, differences in moisture content, or changes in humidity, can be detected as changes in capacitance.
The advantage of the capacitance change type Humidity Sensor is that it is more sensitive and has a faster response time than the resistive type. However, capacitance change Humidity Sensors have the disadvantage of complicated circuits.
Other Information on Humidity Sensors
1. Types of Humidity Sensors
There are two types of humidity sensors: one is in the form of a small element that is connected to an electronic circuit, and the other has a humidity sensor placed inside a probe-shaped measuring section. Some types are resistant to condensation, while others are weak against condensation, so it is necessary to select the appropriate type according to the application. 
2. Life of Humidity Sensor
Humidity sensors gradually deteriorate over many years of continuous use, and naturally, their measurement accuracy declines. In addition, the joint between the humidity sensor and the external output will also deteriorate. Considering these factors, the life span of a sensor is about 2 to 5 years, depending on the operating environment and the type of sensor installed. 
3. Humidity Sensor for Smartphones
In recent years, an increasing number of smartphones have been equipped with temperature and humidity sensors. In order to measure temperature and humidity with such smartphones equipped with temperature/humidity sensors, it is necessary to download a free application or other software.
In many cases, smartphones that do not have a temperature/humidity sensor can be used to measure temperature and humidity by attaching an external sensor.

Wireless sensors that work with smartphones include temperature and humidity sensors with Bluetooth functionality. Such external sensors are generally called "environmental sensors." Many of these environmental sensors have multiple sensor functions such as temperature, illumination, air pressure, noise, etc., in addition to a humidity sensor.
*Including some distributors, etc.
*Including some distributors, etc.