This section provides an overview for lidar sensors as well as their applications and principles. Also, please take a look at the list of 8 lidar sensor manufacturers and their company rankings. Here are the top-ranked lidar sensor companies as of June, 2023: 1.XenomatiX, 2.Velodyne LiDAR, 3.Riegl USA.
What Is a LiDAR Sensor?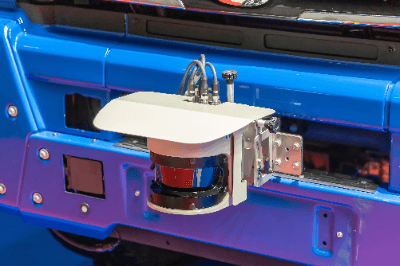 LiDAR sensor is the generic term for a device that measures the distance to and shape of an object by emitting laser light and detecting reflected or scattered light.
LiDAR is an acronym for Light Detection and Ranging. 
In particular, it is often used to measure time-of-flight in light detection and is called a TOF (time-of-flight) sensor. This type of technology for measuring distance from a remote location is called remote sensing technology.
Applications of LiDAR Sensors
LiDAR sensors were originally used for aircraft radar's and weather observation.
In recent years, LiDAR sensors have become an indispensable element of automatic driving technology, such as detecting obstacles and vehicles in the vicinity in automobiles.


Development is being actively pursued. One being to reduce size and cost. Besides that, in factories, they are beginning to be used in combination with image processing devices and smartphone cameras to assist in effectively blurring the focus in photography, and as a technology for virtual reality (VR) and augmented reality (AR). It is also used in Apple's iPhone 12 Pro and iPhone 12 Pro Max.
Principle of LiDAR Sensors
A LiDAR sensor consists of a light source (laser) and a light-receiving element. The laser beam is irradiated onto the object and the time it takes to return due to reflection or scattering (time-of-flight, TOF) is measured.
There are two types of laser beam irradiation methods: wide-field irradiation and scanning irradiation in a specific direction.
1. Wide-Field Irradiation Method
The wide-field irradiation method is called a TOF camera because it can be handled in the same way as a general camera.
A TOF camera can acquire information on the entire field of view at once with a single irradiation of light, and its optical system is extremely simple, making it a relatively low-cost device. However, since it is necessary to spread the laser beam to cover the entire sensor, the photon density per pixel is reduced.
Therefore, it is easily affected by ambient light, etc., and has the disadvantage of having a short measurement distance.
2. Scanning Method
On the other hand, the scan method uses a mirror to scan the laser beam. There are two types of scanning methods: the point-scan method, which scans each pixel, and the line-scan method, which scans each row of pixels.
3. Point Scan Method
The point-scan method allows highly accurate measurement without sacrificing photon density because information can be obtained pixel by pixel, but it takes time to obtain information for the entire field of view.
4. Line Scan Method
In contrast, the line-scan method has a lower spatial resolution than the point-scan method, but it can acquire information at high speed. There are also direct TOF and indirect TOF methods for measuring time-of-flight. The former directly measures the delay time of the emitted light, while the latter irradiates a continuous wave with modulated intensity and calculates time-of-flight from the phase shift of the returned light.
Cameras for LiDAR Sensors
The LiDAR and camera are usually separate. However, if the LiDAR and camera are separate units, a slight parallax occurs when the LIDAR and camera data are combined, and high accuracy cannot be achieved.
Therefore, a type of sensor that combines the camera and LiDAR into a single unit is now available.
This type of sensor can generate the creation of high-resolution 3D images by combining the camera and LiDAR data.
By combining the camera and LiDAR into one lens, slight misalignment can be eliminated. The elimination of misalignment does not cause delays and enables highly accurate measurements without parallax and distortion differences, making it a promising sensor for use in automotive applications.
LiDAR Sensor Market Share
Recently, research and development of automatic driving technology has become active, led by Toyota Motor Corporation.
The LiDAR sensor and laser industry has been heating up along with this trend.
Market research firm Yano Research Institute Ltd. forecasts that the LiDAR and laser market size will increase to 495.9 billion yen by 2030.
Another market research firm, Yor Development, in its 2019 study predicted that the LiDAR market size will grow to $6 billion by 2024.
Demand for LiDAR sensors is expected to continue to increase, especially in developed countries.
Price of LiDAR Sensors
Depending on their performance, LiDAR sensors range in price from as high as $75,000 to as low as a few thousand dollars.
For example, DJI Inc. sells the LiDAR Livox Tele-15 for long-range detection for automated driving for about $1,500.
*Including some distributors, etc.
*Including some distributors, etc.