This section provides an overview for manifold blocks as well as their applications and principles. Also, please take a look at the list of 93 manifold block manufacturers and their company rankings. Here are the top-ranked manifold block companies as of December, 2023: 1.Graco Inc. , 2.DESTACO, A Dover Company, 3.Donaldson Company, Inc..
What Is a Manifold Block?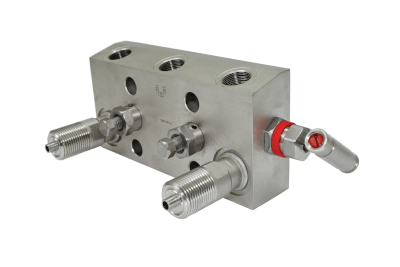 A Manifold Block is a component with through holes formed as a circuit inside a metal block, through which gases, liquids, etc. can flow through.
The use of this component has the advantage of being smaller and lighter than connecting individual devices together, as well as requiring less piping.
Manifold Blocks are available in a variety of shapes and sizes, depending on the intended use.
Uses for Manifold Blocks
Manifold Blocks are used in a variety of situations, depending on the material they are made of.
In the case of steel, they are applicable to lubricating oil and cutting oil, and are used for the purpose of diverting oil in situations where machine tools are used.
In the case of stainless steel, since it is also used for water, a part of the through-hole of the block can be combined with a pressure gauge to measure water pressure. Besides water, it can also be used for oil and air.
In the case of aluminum alloys, it is applied to air and is used to branch air for use in air nozzles.
Principle of Manifold Block
Manifold Blocks are made of metal materials such as iron, stainless steel, or aluminum alloy, and have holes drilled through them in the form of a circuit.
Because the holes form a circuit, fluids such as water, oil, and air flow through the holes. Since the entrance of the hole is threaded, it can be connected to piping from the outside. Since multiple holes are formed in the block, piping can be arranged compactly.
Typical Manifold Blocks sold as general-purpose products include those with holes penetrating the block in a straight line, and those with holes drilled in a T-shape or L-shape. Depending on the circuit design, holes can be created at high density, so further consolidation of piping can be expected.
Special design support software is available for circuit design, and custom-made designs can be made using CAD. This makes it possible to create flow paths according to the application, even if they are not general-purpose products but have special shapes. If precision is required to create the flow path, there is a specialized machine processing company, so we will request processing there.
*Including some distributors, etc.
*Including some distributors, etc.