This section provides an overview for collet chucks as well as their applications and principles. Also, please take a look at the list of 18 collet chuck manufacturers and their company rankings.
What Is a Collet Chuck?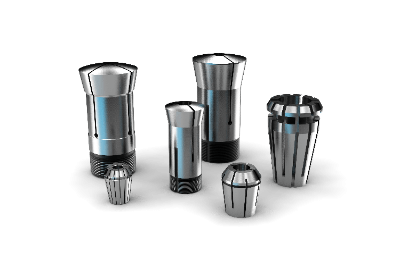 A collet chuck is a tool used to secure cutting tools and other tools during the cutting process of materials, mainly using machine tools. It is part of the components of a machine tool or transfer machine, and is incorporated into that machine.
By pushing the collet chuck into a hole of the corresponding bore diameter, the collet incorporated in the chuck part closes and secures the object. The collet chuck can be secured by simply pressing it vigorously against a cylindrical member fixed to the machine, and can be easily detached by simply impacting it in the direction of pulling the two apart when detaching.
Uses of Collet Chucks
Collet chucks are used to secure cutting tools, such as drills and end mills on lathes, milling machines, and other machine tools.
In most cases, the tool is secured by inserting the shaft of the cutting tool and vigorously pushing the collet chuck of the outside diameter gripping type into the inside diameter of the cylindrical flange on the machine tool side.
The cutting tool is released by impacting the collet chuck in the direction of pulling it away. Depending on the machine tool, means such as striking with a hammer or turning the feed handle are available.
Principle of Collet Chucks
The chucking part of the collet chuck has a slit in the radial direction, which divides the cylinder into three parts in the circumferential direction, and the outer diameter of the chucking part is slightly larger than the outer diameter of the cylinder. When the collet chuck is pressed against the inner diameter of the cylinder, the chuck section elastically deforms inward to hold the shaft in place.
While drill and scroll chucks are similar tools that hold a shaft, the collet chuck holds the shaft with the tips of its three jaws. The above structure of the collet chuck holds the shaft with its entire surface as if it were wrapped around the shaft. The collet chuck, on the other hand, has the advantage as it does not easily cause misalignment of the cutting tool after repeated use.
On the other hand, a collet chuck requires a chuck with a different inner diameter for each shaft length to be held. Compared to a drill chuck, which can hold almost any cutting tool shaft with an adjustable chucking diameter, the number of tools to be prepared is larger.
*Including some distributors, etc.
*Including some distributors, etc.