This section provides an overview for spectrophotometers as well as their applications and principles. Also, please take a look at the list of 20 spectrophotometer manufacturers and their company rankings.
What Is a Spectrophotometer?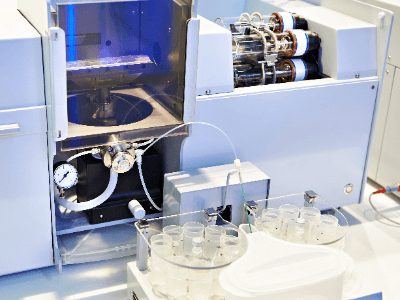 Spectrophotometer is a device that can connect into various wavelengths, irradiate the spectral light onto a sample, and examine the wavelength and amount of light transmitted through and reflected from the sample. Spectrophotometers are common, versatile analytical instruments and are used in a wide range of fields, including research and development, quality control, and chemical analysis.
Typical instruments include Vacuum Ultraviolet Spectrophotometer (VUV), Ultraviolet-Visible Spectrophotometer (UV-Vis), and Infrared Spectrophotometer (IR), each of which can obtain a variety of information by using light in different wavelength ranges.
Principle of Spectrophotometers
Spectrophotometers detect the light transmitted or reflected from a sample and produce a corresponding spectrum. By analyzing these spectra, various information about the sample can be obtained. For example, quantitative analysis of a sample can be performed from peak intensities, qualitative analysis from spectral waveforms, and evaluation of electronic state, molecular structure, and material properties.
The instrument mainly consists of a light source, spectroscopy section, sample section, and detector. The light source is the part that emits light for analysis. Two types of light sources are mainly used: deuterium discharge tubes for the ultraviolet region and tungsten lamps for the visible and near-infrared regions.
The spectroscope selects specific wavelengths of light from the light source, and is available in filters, prisms, and diffraction grating types.
The sample section contains a cell containing the sample to be measured, and cells made of glass or quartz are mainly used.
The detector converts light transmitted from the sample into an electrical signal.
Types of Spectrophotometers
Spectrophotometers irradiate a sample with light, and the wavelength and absorption of the transmitted and reflected light can be examined. There are several types of instruments depending on the light irradiation. This section provides an overview of three types of Spectrophotometers: Vacuum UV Spectrophotometer, UV -Visible Spectrophotometer, and Infrared Spectrophotometer.
1.Vacuum Ultraviolet Spectrophotometer (VUV)
The vacuum ultraviolet spectrophotometer uses light in the vacuum ultraviolet region (200 nm or less) as a light source to examine the light transmitted through or reflected from a material. Since light in the vacuum ultraviolet region is absorbed by oxygen molecules and nitrogen molecules, it is necessary to measure in a vacuum state. It is used to evaluate material properties.
2. UV-Visible Spectrophotometer (UV-Vis)
This is a device that uses ultraviolet light (200-380 nm) and visible light (380-780 nm) as a light source to examine the light transmitted through and reflected from a material. Qualitative and quantitative analysis of components in samples can be performed.
3. Infrared Spectrophotometer (IR)
There are two types of IR spectrophotometers: near-infrared (780-2500 nm) and mid-infrared (2500-25000 nm). They can be used to estimate molecular bonds and functional groups, and to perform quantitative analysis of components.
Special spectrophotometers include the Raman spectrometer, which detects Raman light scattered from a sample to identify the molecular structure and evaluate the physical properties of the material, and the Fourier Transform Infrared Spectrophotometer (FTIS), which uses an interferometer to simultaneously detect non-dispersive light at all wavelengths and performs Fourier transformation to calculate the components at each wavelength. Fourier Transform Infrared Spectroscopy (FT-IR) is also available.
Single Beam and Double Beam
The optics of Spectrophotometers vary widely depending on the purpose. As an example, we will discuss single-beam and double-beam systems.
Single-beam (monochromatic) optics refers to an optical system in which monochromatic light (light of a single wavelength) spectrally illuminated by a monochromator is illuminated onto a sample and the reflected or transmitted light is detected by a detector. Since the optical system configuration is very simple, it can be obtained at a relatively low cost. With its simplicity however, it is not suitable for measurements that require high accuracy due to large measurement errors.
The double-beam method improves on these disadvantages. In the double-beam method, the light spectra from the monochromator are divided into sample light and reference light by a half-mirror or the like. The sample light illuminates the sample, and the reflected or transmitted light is detected by a detector as in the single-beam method.
Since both the reference light and the sample light contain errors caused by the instrument, the signal obtained from the reference light is processed against the signal obtained from the sample light to cancel the effects.
Daily Maintenance Guidelines for Spectrophotometers
One of the problems that disrupt measuring instruments is the maintenance and assurance of their accuracy. Spectrophotometers are no exception. It is too late to take countermeasures after a failure has occurred, so daily inspections are indispensable.
As a guide, here are some important indicators for Spectrophotometers. Daily control of these indicators will lead to early detection of abnormalities.
Wavelength Accuracy




This refers to the error between the wavelength detected by the device and the light source wavelength.

Wavelength Repeatability




Wavelength repeatability refers to the variation in wavelength when the same wavelength is measured repeatedly.

Resolution




Evaluates the bandwidth when measuring monochromatic light. There are several definitions of bandwidth, but here it is managed by FWHM.

Stray Light




Refers to light other than the target wavelength obtained from the device.
*Including some distributors, etc.
*Including some distributors, etc.