This section provides overview, applications, and principles of thermal imaging. Also, please take a look at the list of 22 thermal imaging manufacturers and their company rankings.
What Is Thermal Imaging?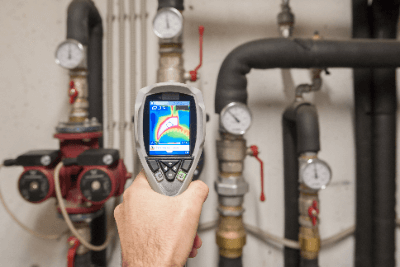 Thermal imaging is an infrared camera that can visualize temperature distribution by converting infrared radiation into thermal energy.
While thermometers basically measure temperatures at a point, thermal imaging is characterized by its ability to measure temperatures all over a surface. This makes it possible to measure temperatures at very high speeds and visualize them in real-time.
Also, since thermal imaging detect infrared radiation emitted from an object, it has the advantage of being able to perform non-contact measurements from a distance.
Uses of Thermal Imagings
Thermal imagings are widely used in the medical and industrial fields. In the medical field, thermal imagings are used to measure the surface temperature of the skin, which can then be used to determine whether blood flow is good or bad.
It is also used in the construction industry to detect defects. For example, a defect such as a crack may cause water to accumulate in the area, and the temperature may be lower than the surrounding area, as in the case of a leak. By detecting this with thermal imagings, the aging of the building and the location of the defect can be determined.
Principles of Thermal Imagings
Infrared radiation is emitted by anything that emits heat. The generation of heat is caused by the release of received energy, which emits infrared radiation. The amount of infrared radiation is proportional to the square of the temperature. Therefore, by detecting the amount of infrared radiation with a camera, the temperature of the source of the infrared radiation can be determined inversely.
However, this is the case for ideal infrared emitters such as so-called blackbody radiation, which in reality is affected by losses in the camera optics and by the quantum yield of the image sensor, so it is necessary to compensate for these losses.
Thermal imagings can be used to detect infrared radiation, either as light or as heat radiation. Detection of infrared rays as light is similar to that of a standard digital camera, but a sensor with sensitivity to the infrared region is used. In the case of detection as a hot wire, the sensor detects the change in current value based on the change in resistance value that accompanies the temperature rise when the sensor receives infrared light.
Other Information on Thermal Imagings
1. Temperature Detection by Thermal Imagings
As the new coronavirus, first identified in Wuhan, China, at the end of 2019, spreads around the world, thermographic temperature sensing is playing an important role in all sorts of infection prevention measures, including at entry gates to businesses, stores, public facilities, and event venues.
Thermal imagings cameras capture not one, but a total of thousands of temperature changes per pixel of the thermal image. This makes a single thermal imagings camera as effective as tens of thousands of spot-radiation thermometers simultaneously. This reduces the risk of missing faint hot spots and speeds up the inspection process.
AI authentication terminals are being introduced to support advanced access control by combining non-contact temperature measurement, advanced facial recognition, and management software.
The AI authentication terminal features a walk-through temperature test without touching the terminal, and an alarm sounds when an abnormal body temperature is detected. Body temperature measurement is non-contact, recognizing body temperature within 0.4 seconds, and the measurement accuracy in detecting body temperature is about ±0.3 degrees. The accuracy of the recognition is also high-speed recognition of the face and palms of the hands at a distance of 30-50 cm, and even when wearing a mask.
2. Thermal Imagings Camera Application
By linking a dedicated app with Thermal Imagings that can be attached to a smartphone, heat can be easily visualized.
It can be attached via Android's microUSB or iPhone's Lightning adapter. Infrared thermography, which has a strong image as a professional-use device, can now be easily used by general users through the app.
FLIR Systems offers a free dedicated application FLIR ONE that can be used to capture thermal images. By combining the longwave infrared information read by a special camera with standard camera photos, FLIR Systems is able to take thermal images that are sharper than those from conventional commercial thermography.
This double-camera structure allows the information "temperature" to be viewed on a smartphone screen.
*Including some distributors, etc.
*Including some distributors, etc.