What Is a Tantalum Capacitor?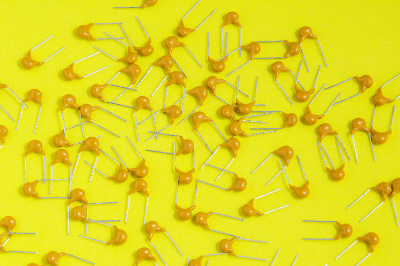 A tantalum capacitor is capacitors that use tantalum pentoxide as the dielectric.
It is classified as an electrolytic capacitor, and its mechanism is almost the same as that of a polarized aluminum electrolytic capacitor.
They are smaller and have a longer life than aluminum electrolytic capacitors, and they are resistant to temperature changes and have good frequency characteristics.
However, tantalum is a rare metal and expensive, so the price is high.
Although tantalum capacitor is very convenient, there is a risk of circuit breakage due to short circuit when broken.
Uses of Tantalum Capacitors
Tantalum capacitors are used in a wide range of applications and are incorporated in many circuits of cell phones, PCs, video game consoles, car navigation systems, audio equipment, etc., in quantities ranging from several tens to a hundred units.
They are used as decoupling, coupling, and power smoothing capacitors in these devices.
Tantalum capacitors are also utilized as temporary power supplies for backup because of their large capacitance.
In recent years, miniaturization has been progressing, with products as small as 0.5 mm in height now available.
The miniaturization of these capacitors has contributed to the miniaturization of cell phones, personal computers, and other devices.
Principle of Tantalum Capacitors
The principle of tantalum capacitors are almost the same as that of aluminum electrolytic capacitors.
Sintered tantalum is used as the anode and a thin film of tantalum pentoxide, an oxidized form of tantalum, is used as the dielectric.
Manganese dioxide or conductive polymers are used as the electrolyte adjacent to the dielectric, and metals such as silver or graphite are used as the cathode for current carrying.
Products using conductive polymers as electrolytes tend to have lower ESR and higher performance.
Sintered tantalum has a large surface area and a thin film of tantalum pentoxide as a dielectric, which allows it to efficiently store a charge and increase the capacitance.
While many aluminum electrolytic capacitors require an electrolyte, most tantalum capacitors are formed entirely of solid material, allowing them to be smaller and offer superior characteristics.
In addition, they have the advantage of good temperature stability and long life, but at a higher cost.
They come in a variety of shapes, including axial, radial, and chip.
Electrolytic capacitors have polarity and are vulnerable to reverse voltage, especially tantalum capacitors, which can break and short-circuit.
Prohibition of Tantalum Capacitors
Most tantalum capacitors failures are caused by localized shorts in the dielectric of the capacitor. When connected to a low-impedance circuit such as a power line, a large current can concentrate at the shorted point and generate heat, leading to ignition.
Once tantalum capacitors ignites, it continues to burn with flames and burns out. For this reason, some manufacturers of equipment requiring high reliability or equipment that is constantly energized have banned the use of tantalum capacitors.
Burnout of tantalum capacitors has also been reported in portable equipment powered by batteries, so care and circuit verification are required when using tantalum capacitors.
General measures include not applying reverse voltage in any case and selecting a capacitor with a rated voltage that has a sufficient margin for the voltage applied to the capacitor. In particular, it is desirable to use tantalum capacitors with a voltage rating of at least twice the power supply voltage, or three times the voltage rating if possible, when the capacitor is used in a power circuit.
If the ripple current is large, the heat generated inside the capacitor may cause degradation, so it is also effective to select a larger package that is conducive to heat dissipation.
Polarity of Tantalum Capacitors
Tantalum capacitors are polarized, and if the specified polarity is incorrect, a large current will flow, leading to ignition in the worst case.
Tantalum capacitors can be classified into three types based on their construction: chip type, metal case hermetically sealed type, and resin dipped type.

The chip type has a white band printed on the top surface of the black molded case with capacitance and rated voltage, and the electrode on the bottom side of the band is the anode.

The metal case hermetically sealed type is for applications requiring high reliability, and has a + sign printed on the surface of the round cylindrical shape along with capacitance, rated voltage, etc. The lead wire on the + sign side is the anode. The lead wire on the + sign side is the anode.
The resin dip type has a vertical structure, but the + sign is printed on the surface of the resin along with the capacitance and rated voltage. The lead wire on the side near the + sign is the anode. The lead wires are unequal in length, with the lead wire on the cathode side being shorter.
Aluminum electrolytic capacitors, which are also polarized, are marked on the negative side, which is different from tantalum capacitors. When replacing an aluminum electrolytic capacitor with tantalum capacitors, care must be taken to ensure that the polarity is correct.
*Including some distributors, etc.
*Including some distributors, etc.