This section provides overview, applications, and principles of noise filters. Also, please take a look at the list of 34 noise filter manufacturers and their company rankings.
What Is a Noise Filter?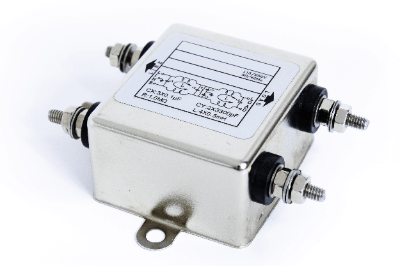 A noise filter is an electrical circuit, electronic circuit, or device that removes noise from the power supply or signals used. a noise filter prevents noise (abnormal signals) from being generated in cables that carry electrical signals.
There are several types of noise that can affect equipment and lines, some of which affect low frequencies and some of which affect high frequencies. If equipment is used without processing noise, changes in voltage may cause malfunctions in the worst case, so a noise filter is necessary.
Uses of Noise Filters
Examples of specific applications include automatic control equipment and audio equipment in factories.
In factories, noise filters are used to prevent malfunctions caused by noise entering the power lines and to prevent noise generated inside the equipment from having a negative impact on other crises.
For audio equipment, it is used to prevent noise from speakers due to noise derived from pulse signals from household power sources or radio equipment when in use.
Furthermore, digital voltmeters that have relationships with other circuits, they are sometimes used to prevent noise from commercial power supply frequencies and harmonic components.
Selecting Noise Filters
Basically, two items are important in selecting noise filters, "rated voltage" and "rated current".
1. Rated Voltage
It uses a voltage lower than the rated voltage (maximum operating voltage) specified for each product. Some manufacturers take sudden voltage fluctuations into account and may allow use at a voltage higher than the rated voltage. However, since this may cause unexpected malfunctions, it is advisable to select a product with the highest rated voltage possible in such cases.
2. Rated Current
Similar to voltage, each product has its own upper limit for current value. In the case of current, in particular, the characteristics tend to change depending on the ambient temperature (derating characteristics), so it is necessary to check the environment in which the product will be used beforehand.
As the ambient temperature rises, the allowable load factor (ratio of load current to rated current) gradually decreases. Although a large load current may not be a serious problem for a short period of time, if it continues for a long period of time or is repeated, it may be necessary to restrict the use of the product. In addition, we must also pay attention to "inrush current" in DC power supplies. If there is an inrush current, carefully check the current value at the time and the time rate it is flowing.
There are several other things to understand when selecting noise filters, such as test voltage and attenuation characteristics. It is also not appropriate, from a cost standpoint, to select a specification that exceeds the purpose. Designers need to take these factors into consideration before making a selection.
How to Use Noise Filters
There are several points to be considered when using noise filters.
One is the ground wiring. The ground wire should be as thick and short as possible. If the ground wire is long, an inductance component will act on it, which may degrade the attenuation characteristics.
It is also important not to tie input/output wires together or wire them close together. If input/output wiring is close together, high-frequency noise components will bypass the filter and the desired filtering effect will not be achieved.
*Including some distributors, etc.
*Including some distributors, etc.