This section provides an overview for prefilters as well as their applications and principles. Also, please take a look at the list of 48 prefilter manufacturers and their company rankings. Here are the top-ranked prefilter companies as of September, 2023: 1.FlowTech Corporation, 2.Clean Liquid Systems.
What Is a Prefilter?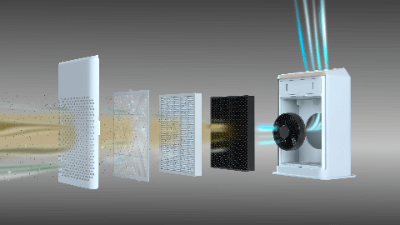 A prefilter is a relatively coarse filter used upstream in the filtration of air or liquids. Although prefilters are also used to filter liquids, they generally refer to air filters that remove airborne contaminants. Usually, when removing contaminants such as dust and dirt, high-performance filters and prefilters are used to extend filter life and efficiency. For these reasons, prefilters are relatively inexpensive and come in a variety of materials.
Prefilters are used to remove pollutants from the air and perform purification. Prefilters are not used by themselves, but in combination with high-performance HEPA filters and other filters with smaller pore size than prefilters. This is one of the ways to extend the life of expensive filters that trap micron-sized particles and dust. The smallest particle size that a typical prefilter can capture is about 5 microns. This is only a reference value and varies depending on the material and product, so it is essential to check the product information.
Features of Prefilters
Prefilters are used to capture contaminants such as dust and dirt, and there are various types, from washable to disposable filters. Also, materials such as polyester, glass fiber, and stainless steel must be used depending on the application. We will explain the features of each type separately for recyclable, disposable, and paint booth applications.
Prefilter for Reconditioning

These filters can be reused by cleaning, and synthetic fiber non-woven fabrics and other materials exist. They are suitable for outside air treatment and medium performance filters and can withstand up to several washes.

Prefilters for Disposable Use

Collection capacity decreases after a certain period of use, requiring periodic replacement. Because it is best suited for disposable applications, it is often used for outdoor air treatment.

Prefilter for Paint Booths

Used to remove particles and dust larger than 10 µm. The collection efficiency of the above two types of filters is about 80%, while 98% or higher is common for paint booth applications.
Prefilter Materials
There is a wide variety of prefilter materials. This is because the purpose of prefilters differs depending on the product to which they are attached. If the purpose of the prefilter is to remove large debris such as fallen leaves, a fabric filter made of coarsely folded synthetic fiber is available. If flame retardancy is also required, then polyester properties may be used to suppress pressure loss.
Paper types also exist for prefilters used in engine intake air filters. In addition, engines compliant with emission regulations have prefilters in the fuel lines. Engines compliant with emission regulations use a common rail system, which causes engine malfunctions due to debris in the fuel. Therefore, the prefilter and main filter thoroughly remove dust in the fuel.
Thus, even if we talk about prefilter materials in one word, there is an appropriate prefilter material for the purpose of each product. Therefore, when replacing a prefilter, it is important to note that using a prefilter other than the manufacturer's genuine product may prevent the prefilter from functioning as intended, resulting in reduced product capacity and malfunction.
Prefilter Replacement
The method of replacing the prefilter also differs depending on the product. In some cases, only the filter portion of the prefilter is replaced, while in other cases, the prefilter case and filter are integrated and are replaced together with the prefilter case. Replacement may not be necessary in the first place. Periodic cleaning should be performed, and replacement should be done only if the damage is severe. Check the manufacturer's instruction manual carefully before replacing the prefilter.
When replacing the prefilter, note that the installation direction of the prefilter may be specified. If the installation direction is incorrect, it may not be able to adsorb dust, or gas suction to the product may not be normal. Some products may malfunction if gas suction cannot be achieved, so when replacing the prefilter, be sure to also check whether the prefilter is installed in the correct direction.
*Including some distributors, etc.
*Including some distributors, etc.