This section provides an overview for chemical filters as well as their applications and principles. Also, please take a look at the list of 64 chemical filter manufacturers and their company rankings.
What Is a Chemical Filter?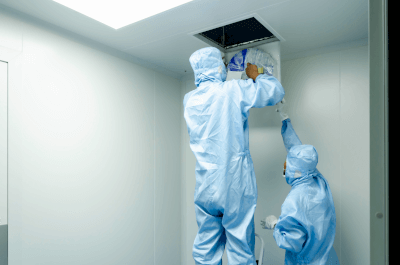 A chemical filter is a filter used to remove toxic gases and minute acidic and basic particles present in the air.
In particular, removing airborne molecular contaminants (AMCs) is widely used in the manufacturing process of precision equipment and the medical field. Since there are often several different types of toxic substances to be removed, additional filters are sometimes made in combination. Filters include those that use ionic bonding and activated carbon for adsorption.
Uses of Chemical Filters
Because there are many places where AMC removal is required, chemical filters are used in various situations.
Semiconductor Device Manufacturing and Processing
Chemical filters are also used in the manufacturing process of semiconductor devices. This is because minute particles can cause device malfunctions, and acidic or basic gases can cause insulation defects.
Protection of Cultural Assets
Chemical filters are also used in museums and galleries to protect valuable cultural assets. Old artifacts and cultural assets are also susceptible to the effects of gases in the air, so chemical filters must be used to remove harmful substances.
Medical Institutions
Chemical filters are also used in medical institutions. Specifically, they are used to sterilize medical equipment and operating rooms.
Principle of Chemical Filters
Depending on the toxic substances to be removed, various adsorbents and resins are used in chemical filters. Here we introduce the three primary filter materials used.
Ion Exchange Resin
Ion exchange resins are used to remove acidic and basic toxic substances. This exchanges harmful substances for harmless ones through ionic reactions of the substances. Acidic substances contain hydrogen ions, and basic substances contain hydroxide ions, which, when combined with ion exchange resins, can be exchanged into water and carbon dioxide, which are harmless to the human body.
Learn more about ion exchange resins
Activated Carbon
Activated carbon has microscopic holes through which gases pass, allowing harmful substances to enter. The size of the particles that can be removed depends on the size of the holes, but various harmful substances can be adsorbed and removed.
Giga Soap
GIGASOAP combines polyurethane with many holes and micro-spherical activated carbon. Compared to ordinary activated carbon, GIGASOAP succeeds in highly efficient removal. In addition, pressure loss is reduced due to its excellent air permeability.
SV Value of Chemical Filters
When selecting a chemical filter, an index called SV value, called "space velocity," is expressed by the following equation.
SV value (1/h) = airflow rate (m3/h) ÷ adsorbent filling volume (m3)
As you can see above, it indicates the amount of airflow that passes through the chemical filters with adsorbent per hour.
Once again, the purpose of chemical filters is to collect toxic substances in the air that passes through them. Therefore, the more air passes through the filter per hour, the fewer harmful substances can be collected by the chemical filters.
Therefore, if the purpose is to collect air with a high concentration of harmful substances and high efficiency, it is necessary to set a smaller SV value. Also, the smaller the amount of air that passes through the filter, the longer the life of the adsorbent is improved, so it is recommended to select chemical filters with a small SV value.
Life Span of Chemical Filters
Chemical filters have a life span; the closer the life span ends, the worse the adsorption performance of toxic substances becomes. Chemical filters with deteriorated performance should be replaced with new ones before they complete their service life.
Each manufacturer has its expected date for the life of chemical filters. However, since this is only a standard, even if the same product is purchased, the filter's life will vary depending on its user environment.
The factors that determine the life of chemical filters include:
Temperature and humidity.

The concentration of hazardous substances is suspended in the area where the filter is used.

The composition of the hazardous substances.

The number of hours of use per day.
Although it is possible to calculate the service life to some extent by conducting a service life test and considering these items, it is still impossible to determine the service life.
Therefore, when chemical filters are installed, they should be installed in a series of several so that air containing the same hazardous substances will pass through the chemical filters in stages.
By installing them in this way, even if one chemical filter reaches the end of its useful life, the other chemical filters can remove hazardous substances. During this time, the chemical filters that have reached the end of their useful life are replaced.
*Including some distributors, etc.
*Including some distributors, etc.