This section provides overview, applications, and principles of ferrite cores. Also, please take a look at the list of 10 ferrite core manufacturers and their company rankings.
What Is a Ferrite Core?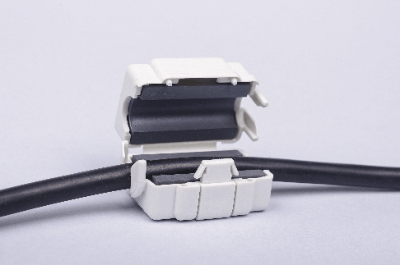 A ferrite core is a ferrite, an iron-based ceramic magnetic material, that is processed according to its application.
Using ferrite as a magnetic core can inhibit high-frequency currents and is therefore used for noise reduction.
Ferrite is divided into different systems according to its composition. Still, Ni-Zn-based ferrite is currently mainly used because it does not require insulation processing and has excellent high-frequency characteristics.
Since noise can be eliminated by passing a cable through a ring-shaped ferrite core, it is used as an elementary and inexpensive noise suppression component.
Uses of Ferrite Cores
Ferrite cores are used for noise suppression. Noise can be eliminated by inserting a cable through a hole in ring-shaped ferrite cores and fixing it in place.
The noise-reducing effect of ferrite cores are not limited to noise that flows into the cable but can also eliminate noise emitted from the cable.
Since they are straightforward to handle, noise suppression can be performed without changing the design of boards or circuits, so they can be used as experimental or emergency noise suppression before finalizing the final specifications.
*Including some distributors, etc.
*Including some distributors, etc.