This section provides an overview for rubber magnets as well as their applications and principles. Also, please take a look at the list of 12 rubber magnet manufacturers and their company rankings.
What Is a Rubber Magnet?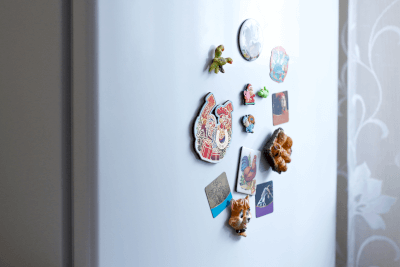 A rubber magnet is a magnet molded by mixing a powdered magnetic material with a binder material such as rubber or plastic. It is also called a bonded magnet.
Depending on the type of magnetic material and the shape of its crystals, it can be broadly classified as isotropic or anisotropic.
Magnetic materials include ceramics and rare earth magnets, with ferrite (iron oxide) being the representative material for the former and neodymium for the latter. Products are available in sheet and strip forms.
Magnets are usually hard, brittle, and difficult to process, but rubber magnet is flexible, bendable, easy to process, and many are printable.
Uses of Rubber Magnets
Because of their flexibility and ease of processing, rubber magnets have various uses and are particularly suited for applications requiring complex shapes.
Rubber magnets using ferrite are widely used for various stickers, stationery, promotional items such as refrigerator gaskets and beginner's marks for automobiles, and construction materials such as window and door sashes.
Rubber magnets using neodymium are increasingly used for new applications such as distribution boards, sensors, small motors, magnetic shields, acoustic products, and health appliances, in addition to their conventional use for adsorption.
Principle of Rubber Magnets
There are two main rubber magnets: ferrite rubber magnets made of synthetic rubber and ferrite magnet powder, and neodymium rubber magnets made of synthetic rubber and neodymium magnet powder.
Available in strip and sheet forms, these products can be easily cut, drilled, and otherwise processed to provide a high degree of freedom of shape. They are very bendable and can be used similarly to rubber or plastic.
There are two types of magnets: isotropic magnets, which have approximately the same magnetization strength in all directions, and anisotropic magnets, which magnetize in only one direction. Isotropic magnet sheets are widely used for automotive stickers such as beginner's marks, sales promotion materials, and school materials. Anisotropic magnet sheets have stronger magnetic force than isotropic ones and are used for applications such as holding heavy objects and industrial parts.
Both ferrite and neodymium rubber magnets are standard multi-pole magnetized with alternating N and S poles.
Since rubbers have low heat resistance, rubber magnets are unsuitable for use at temperatures 80 to 100°C or higher. In some cases, rust may occur if used outdoors or in humid environments, so care must be taken in the operating environment.
*Including some distributors, etc.
*Including some distributors, etc.