This section provides an overview for rubber overshoes as well as their applications and principles. Also, please take a look at the list of 9 rubber overshoes manufacturers and their company rankings.
What Is a Rubber Overshoe?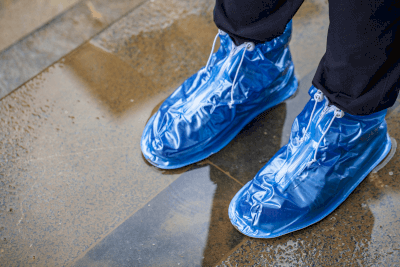 Rubber overshoes are shoes worn over regular shoes to protect them and prevent them from getting dirty. They are sometimes called shoe covers, and come in a variety of shapes and sizes, including disposable, slipper, and boot-type shoes.
Rubber overshoes can be broadly classified into two categories: waterproof and cold-proof shoes for outdoors, and dirt-preventing shoes for clean rooms and other applications. Rubber overshoes for general use on rainy days are also available.
Recently, demand has also been increasing for use in medical facilities to prevent infection.
Uses of Rubber Overshoes
Rubber overshoes are often used for trekking and other activities. They can be worn over shoes to provide protection from the cold and waterproofing. Rubber overshoes have no seams, so they can maintain their waterproof effect as long as no holes are made.
Rubber overshoes can also be used in clean rooms, medical workplaces, and other areas where care must be taken not to bring in dust and dirt. Disposable types are utilized in places where asbestos or environmental contamination is a concern.
Principle of Rubber Overshoes
Non-disposable trekking types are often boot-shaped and use a highly abrasion-resistant material for the flooring. They can also be attached to snowshoes. In slipper types, they are often large enough to fit over shoes.
Disposable types are made of non-woven fabric, PVC, or plastic. Some types cover the thighs, but most products cover the ankles. Since they are generally slippery, some products have a non-slip coating on the bottom.
Non-woven fabrics have good air permeability and often have an anti-static function. They are slightly slippery. The mouth of the footwear is made of rubber and has a moderate tightness.
Plastic products are generally well sealed, have poor slip resistance, and often have a rubber footwear opening. There are also products with good breathability in which polyethylene breathable film or other materials are used in the material. There are also products with a PVC coating that are waterproof.
They are used for decontamination work, factory tours, briefing sessions, entering and leaving food processing plants, etc., as they allow movement with the shoes on.
How to Choose the Right Rubber Overshoes for Safety Shoes
Safety shoes are shoes worn by workers in factories and construction sites. According to some standards, they are defined as "shoes that primarily protect the wearer's toes with a leading edge and are equipped with an anti-slip system." In factories and construction sites, there is always a risk of industrial accidents due to the handling of heavy objects and dangerous equipment. Safety shoes have hard materials such as steel plates built into the toes and non-slip soles to prevent foot injuries due to falling materials or work errors. In many cases, materials that eliminate static electricity are used.
In factories, rubber overshoes are sometimes worn over safety shoes for hygiene and waterproofing. The key to selecting rubber overshoes here is "static electricity."
Let us consider the example of wearing rubber overshoes in places where fine powders such as toner for printers are handled. Very fine powders are often flammable materials. If there is a discharge of static electricity in a place filled with fine powder (such as in a filling process), the fine powder can ignite and cause a dust explosion. This can happen not only with fine powders, but also when handling liquids and gases. Thus, when choosing rubber overshoes, be careful not to choose materials (such as cloth) that may generate static electricity.
Slipper-Type Rubber Overshoes That Can Be Worn With Shoes
Slipper-type rubber overshoes are now available for those who do not usually go out to the factory site for factory tours or inspections. Many products are made of vinyl material, and the insoles and soles are designed to prevent slipping even when worn with shoes on. Compared to slippers worn barefoot, these slippers are larger in length, width, and height, and can be worn with shoes on without difficulty.
In some transportation and logistics operations, where changing shoes significantly reduces efficiency, this product allows the wearer to wear outside shoes (slipper-type rubber overshoes) while still wearing inside shoes.
*Including some distributors, etc.
*Including some distributors, etc.