This section provides overview, applications, and principles of circuit protectors. Also, please take a look at the list of 62 circuit protector manufacturers and their company rankings.
What Is a Circuit Breaker?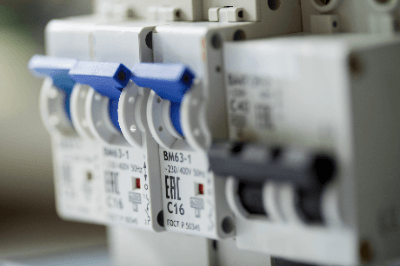 A circuit breaker is a power supply disconnect device for instrumentation.
Instead of being low capacity, circuit breakers are characterized by a faster disconnection speed than general low-voltage breakers. Because of this feature, they are mostly used for the protection of control circuits and instrumentation circuits. They operate before low-voltage breakers installed on the primary side to protect upper circuits.
Applications of Circuit Breakers
Circuit breakers are used in instrumentation and control circuits. Measuring equipment for industrial applications, such as differential pressure transmitters and electromagnetic flowmeters, are called instrumentation, and the circuits used to supply power and receive and transmit signals for instrumentation are called instrumentation circuits. Instrumentation circuits are characterized by low power consumption in spite of their high importance among industrial devices.
Circuit breakers can be used to protect upper circuits while minimizing the effects of instrumentation circuit malfunctions. Control circuits are electrical circuits that control the power and heat sources of industrial equipment.
Large industrial motors are controlled to run and stop by electromagnetic contactors and other drive devices. Large motors consume extra large amounts of power, but the power consumption used to control the drive device tends to be small.
However, the control circuit is of high importance because any abnormality in the control circuit will cause the industrial equipment to lose control. The use of a circuit protector minimizes the effects of control circuit abnormalities.
Principle of Circuit Breakers
Circuit breakers in general use are divided into parts such as trip coils, contact parts, casings, and handles. The trip coil is the part that breaks the circuit by opening the contacts with the magnetic force of the electromagnetic coil in the event of an overcurrent. It is used in the circuit breaker mechanism of circuit breakers because it is more immediately responsive than the bimetal.
The contact part is a metal part that actually conducts electricity to the circuit, and when the contact part opens, the circuit is interrupted. Copper or silver alloys are used as materials. The casing is the outer frame of the circuit breaker and is made of insulating resin. It insulates the contacts from the drive spring and mounting bracket.
The handle is an interface component that allows human operation. The handle and spring turn the contacts on and off to control conductive disconnection. Most circuit breakers have a trip-free function.
The trip-free function is a function that gives priority to overcurrent tripping and opens the contacts even when the handle is locked in the ON state. It is one of the primary functions of circuit breakers, improving circuit breakdown reliability and safety.
*Including some distributors, etc.
*Including some distributors, etc.