This section provides an overview for cleanroom clothing as well as their applications and principles. Also, please take a look at the list of 31 cleanroom clothing manufacturers and their company rankings. Here are the top-ranked cleanroom clothing companies as of December, 2023: 1.Minnesota Knitting Mills, Inc., 2.High-Tech Conversions, Inc., 3.Lakeland.
What Is Cleanroom Clothing?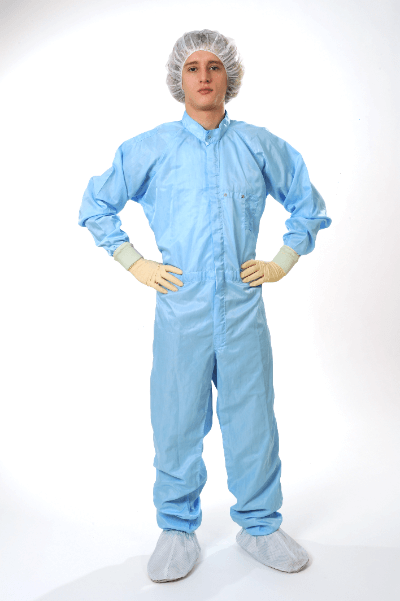 Cleanroom clothing is workwear that prevents particulates and microorganisms from being released into the environment in a cleanroom.
It is also called dustproof or dust-free clothing because of its function of suppressing dust emissions. From the viewpoint of dust prevention, in addition to the low dust emission of the garment itself, airtightness is also important.
On the other hand, to reduce the burden on the worker, breathability suitable for long hours of work is also required. Cleanroom clothing is designed so that these seemingly contradictory characteristics can be compatible.
Uses of Cleanroom Clothing
Cleanroom clothing is used in factories that manufacture semiconductors, pharmaceuticals, food, and other products. These are areas where the use of clean rooms is essential. One of the purposes of use is to prevent contamination from airborne bacteria.
Suspended bacteria are microorganisms, including bacteria and viruses, floating in the air. Normal spaces that are not highly clean contain large numbers of airborne bacteria. Since these airborne bacteria adhere to the surfaces of suspended particles, the risk of contamination by airborne bacteria increases as the number of suspended particles increases.
Cleanroom clothing simultaneously suppresses the generation of airborne particles and the release of human-derived microorganisms, thereby preventing contamination of airborne particles and airborne bacteria.
Principle of Cleanroom Clothing
Cleanroom clothing is designed to prevent dust emissions from workers. In addition to this, the garment must also function as a breathable, non-steaming, easy-to-move garment. It must also be durable enough to withstand washing and steam sterilization processes.
The properties of the materials used affect the dust emission and filtering effect of the cleanroom clothing itself. Common materials are synthetic fibers such as polyester filament and aramid fibers. Natural fibers commonly used for ordinary clothing (cotton, wool, etc.) tend to generate dust and are not suitable for use in clean rooms.
Static electricity can attract particulate matter and cause electric shocks, so anti-static measures are necessary in clean rooms. Cleanroom wear may incorporate special materials or accessories to discharge static electricity.
Structure of Cleanroom Clothing
There are two main types of cleanroom clothing: separate upper and lower sections and integrated upper and lower sections. In areas with a high level of cleanliness, strict dust control is required, so integrated upper and lower garments with hoods are often chosen.
Cleanroom clothing with integrated upper and lower layers has few openings and can be attached and detached with a zipper on the front. Velcro tapes at the neck can be used to eliminate gaps at the neck. The wrists, ankles, and hood have elastic to eliminate gaps between the garment and the body.
Types of Cleanroom Clothing
There are different types of cleanroom clothing according to the cleanliness of the environment in which they are used. Cleanliness is an objective numerical standard that indicates how little airborne microparticles and suspended microorganisms are present in the air. In general, it is expressed in terms of the number of particles in a unit volume.
The ISO standard 14644-1 (based on JIS) is one of the cleanliness standards. However, it should be noted that in Japan, the cleanliness standard used may differ depending on the industry. Although the U.S. federal standard has already been abolished with the establishment of ISO, it is still customarily used in Japan in many cases.
The following is an example of a type of cleanroom clothing. The first half of the classes indicate the U.S. federal standards.
1. Class 100,000 or Less / ISO Class 8 or Higher
Separate upper and lower types and gown types are used as simple clean wear. They are often operated with a hat instead of a hood. This standard is required at manufacturing sites such as automobile parts plants.
2. Class 1,000 to 10,000 / ISO Class 6~7
Upper and lower garments are connected to each other, and a hood integrated type or a hood separate type is used. Special clean shoes are also worn. This standard is required in food factories and pharmaceutical manufacturing sites.
3. Class 1~100 / ISO Class 3~5
Upper and lower garments are connected, and in some cases, a clean inner layer is also worn. Hoods with face shields are used. This is the standard required for semiconductor factories.
In ISO class 1~2 clean rooms, workers are basically not allowed to enter, and automated equipment and robots do the work.
Other Information on Cleanroom Clothing
Cleaning Cleanroom Clothing
When cleaning cleanroom clothing, it is necessary to work in an area that is cleaner than the cleanroom used. Special detergents and washing machines are used for washing, and pure or ultra-pure water is used for rinsing. Drying is often done through clean air, for example, using a dryer with a HEPA filter.
It is also effective to introduce an IC tag system, which not only manages cleanroom clothing inventory, but also reveals the fatigue level of the fibers. Thus, it can also help determine when cleanroom clothing should be replaced.
*Including some distributors, etc.
*Including some distributors, etc.