This section provides an overview for turbine pumps as well as their applications and principles. Also, please take a look at the list of 33 turbine pump manufacturers and their company rankings. Here are the top-ranked turbine pump companies as of June, 2023: 1.Roth Pump Co., 2.AxFlow UK, 3.The Veeder-Root Company.
What Is a Turbine Pump?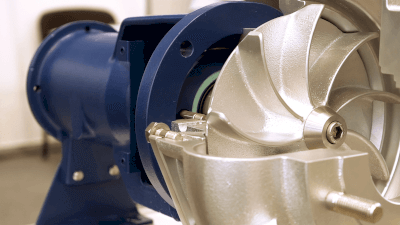 Pumps are classified into two types according to their construction: non-displacement pumps and displacement pumps.
Non-displacement pumps are a type in which an impeller is rotated in a casing to impart pressure energy to a liquid and are further divided into various types.
Turbine pumps (diffuser pumps) are one type of centrifugal pump.
Turbine pumps have a structure in which a guide vane is attached to the periphery of a rotating impeller mounted inside a casing, efficiently increasing the pressure of the liquid to be conveyed.
Uses of Turbine Pumps
Turbine pumps are mainly used for water supply in buildings, production facilities in factories, cooling water, simple water supply, and other general water supply use of water.
Turbine pumps are also used in equipment and applications with higher heads (tens of meters or more) than volute pumps, which are also centrifugal pumps.
For example, fire pumps must carry water far and high, so the water must be delivered at high pressure and high velocity through the nozzle, and the pump itself must be small. Turbine pumps are used in fire pumps because they meet these performance requirements.
Principle of Turbine Pumps
Since turbine pumps are volute pumps and an advanced form, the principle of operation of volute pumps is explained first.
A volute pump has an impeller inside a casing, and a motor is used to rotate the impeller. When liquid is sucked in from the direction of the axis of rotation to which the impeller is attached, the liquid filled inside creates a pressure difference between the center and the periphery as the impeller rotates.
The liquid is then sucked in from the low-pressure center and pushed outward perpendicular to the shaft (centrifugal direction) by centrifugal force. The pressure is further increased in the vortex chamber (volute) inside the casing and finally pumped out through the discharge port.
In addition, turbine pumps have fixed, non-rotating guide vanes around the periphery of the rotating impeller. This guides the liquid out of the impeller and gradually decelerates it as it passes between the guide vanes, converting it into pressure energy that is then used to drive the impeller. The velocity of the liquid leaving the impeller is directed to the guide vanes, where it is gradually decelerated as it passes between the guide vanes and converted into pressure energy, ultimately discharging a high-pressure liquid.
*Including some distributors, etc.
*Including some distributors, etc.