This section provides an overview for safety belts as well as their applications and principles. Also, please take a look at the list of 28 safety belt manufacturers and their company rankings.
What Is a Safety Belt?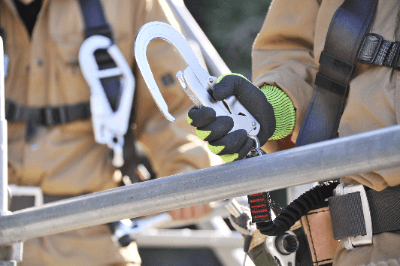 A safety belt is a tool used to prevent crashes when working at heights.  A harness is worn and a lanyard is connected to the belt to protect the user is working at heights.
Uses of Safety Belts
Safety belts are used to prevent workers from falling or crashing. In all types of workplaces, including manufacturing, mining, and construction, accidents caused by crashes and falls tend to be particularly common as a breakdown of occupational accidents It is important to conduct a safety inspection before use to ensure proper use.
Principles of Safety Belts
There are three types of safety belts: body belt type (U-shaped suspension), body belt type (single suspension), and harness type (single suspension).
More commonly used now is the fall arrest device, since with safety belt equipment when a worker falls and is suspended, there is a risk of pressure on the abdomen and the risk of the body slipping through the harness. In addition, fall arrest devices are basically considered to be of the full harness type. A full harness type is a belt that covers the shoulders, torso, and thighs. The risk is reduced because the impact is not concentrated on the abdomen or chest and the body is not pulled out of the harness As a general rule, the full harness type should be used, but depending on the situation, the body belt type (single strap) may be used. In addition, special training is required for those who work with this type of equipment.
What Is a Safety Belt Lanyard?
The safety belt includes the hook part, which is a hook, the rope part is also commonly referred to as the strap, and some devices have a mechanism that allows the strap to be reeled in so that it does not sag. That mechanism is called a winder.
These three parts of the device are called the lanyard. Both conventional safety belts and the new full-harness ones have the lanyard.
Why the name of safety belts changes with the revision of the law
The name "safety belts" makes people think that it is safe to use. However, the only people who are safe are those who were working below the fall. (It is not safe when you are working up and down in the first place.)
If you do not use safety belts correctly hooked above the waist, you can be seriously injured.
For example, if the hook is hanging down at the feet because there is no place to hang it, there is a high possibility of serious injury to internal organs or a broken hip bone if it falls. It is not the least bit safe. It may save your life, but you may still end up seriously injured enough that you will not be able to return to the same occupation afterwards.
It is important to wear your safety belts correctly for your own sake, not because someone tells you to. It is said that the name was changed to "equipment for fall arrest" to avoid this kind of misunderstanding.
New Standard Safety Belts
The new standard safety belts are called "full harness" safety belts, but unlike the "fall arrest device" mentioned above, it is safety belts in the true sense of the word. In the event of a crash, a full harness harness distributes the weight over your shoulders, hips, and legs, which may be painful, but is more likely to protect your life. In the worst case scenario, you might get injured, but it will be more minor than a "crash control device".
*Including some distributors, etc.
*Including some distributors, etc.