This section provides overview, applications, and principles of butterfly valves. Also, please take a look at the list of 45 butterfly valve manufacturers and their company rankings.
What Is a Butterfly Valve?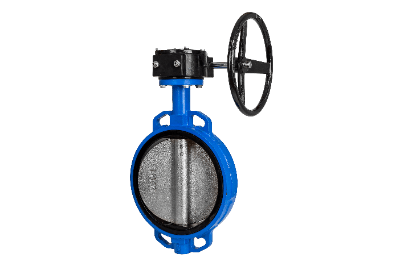 A butterfly valve is a valve with a disk-shaped valve disc that rotates to control opening and closing. They are called butterfly valves because the valve disc resembles a butterfly. The valve can be used in small to large bore sizes, and if the valve interior is lined with PFA or other material, it can be used with corrosive fluids.
Compared to ball valves, butterfly valves can adjust the flow rate and have a lower pressure drop than globe valves. However, they are difficult to use with high-pressure fluids. Because they are easy to operate and inexpensive, butterfly valves are used in a wide variety of locations.
Application of Butterfly Valves
Butterfly valves, whether manual or automatic, are widely used in factory and plant piping. Although rarely seen in daily life, butterfly valves are sometimes used upstream in water piping.
They are easy to operate, easy to open and close, and have a short face-to-face distance, so they can save space even in large bore sizes. For this reason, butterfly valves are often used in large bore locations upstream of transfer piping.
While general flow control valves have a large pressure loss even when fully open, butterfly valves have a small pressure loss and can adjust the flow rate to some extent. For this reason, butterfly valves are sometimes used as flow control valves.
Principle of Butterfly Valves
A butterfly valve consists of a stem, seat, and plug. The stem is connected to a handle or other device, which moves the connected valve plug. The valve plug of a butterfly valve is disk-shaped and opens and closes by turning it 90° to close the valve seat. Compared to ball valves, butterfly valves feature low opening and closing torque and adjustable flow rate even in large bore valves.
Butterfly valves used to be recognized as valves with low airtightness and prone to leakage. In recent years, EPDM and PTFE have been used for the seat material of the valve plug to ensure air tightness.
Butterfly valve opening/closing method (gear type, lever type)
To open and close a butterfly valve, an actuator must be attached to the end of the stem. A lever or gear is attached to the actuator.
1. Lever Type
A lever is used to open and close the butterfly valve. This is mainly employed for manual operation. The motion of turning the lever is synchronized with the movement of the butterfly valve shaft, and the valve is opened and closed by turning the lever 90 degrees.
It is simple to operate, and the degree of opening can be easily visualized. However, the opening/closing operation becomes heavy for valves with large diameters. Because of the danger of unintentional contact with the lever, the lever may be removed except during the open/close operation.
2. Gear Type
Gears are used to open and close butterfly valves. This type is mainly used for large-diameter valves. It may be motorized by a motor. In the gear type, a gear inside the actuator increases torque to move the stem. The large torque required for opening and closing is made possible with a small amount of force.
While the lever type requires only a 90-degree turn, the gear type requires multiple turns to open and close. Also, if left unattended for a long period of time, the gears may stick and fail to open or close.
In addition to the above, compressed air-type actuators are also available and should be selected according to the application.
Other information on Butterfly Valves
Wafer-type Butterfly Valve
Valves, including butterfly valves, can be connected to piping by flange, wafer, threaded, or welded connections. Wafer-type valves are also called flangeless-type valves and are connected by flanges on both sides of the valve.
The wafer type does not require a flange, making it compact, lightweight, and economically advantageous. In addition, the short distance between the faces enables installation in narrow spaces. It must be sandwiched between flanges on both sides, and stud bolts are used.
Stud bolts are bolts that are threaded on both sides and are fastened by tightening nuts from both sides of the bolt. However, in an emergency, stud bolts may be substituted with inch-cut bolts.
*Including some distributors, etc.
*Including some distributors, etc.