This section provides an overview for stainless steel bearings as well as their applications and principles. Also, please take a look at the list of 32 stainless steel bearing manufacturers and their company rankings.
What Is a Stainless Steel Bearing?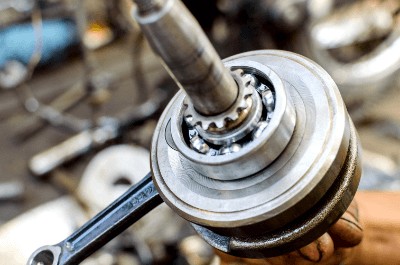 A stainless steel bearing is a bearing that is fabricated of stainless steel. Stainless steel has excellent corrosion resistance, so it is used in food processing plants and areas with high temperature and humidity.
Use of Stainless Steel Bearings
Environments where the corrosion resistance of stainless steel can be utilized include underwater, humid environments, food processing plants, high temperature environments, and acid/alkali environments. The following are applications for stainless steel bearings.
1. Underwater and Humid Environments
Due to its corrosion resistance, the product is used in submerged and humid environments. Examples of applications include submersible pumps and cleaning equipment. 
2. Food Processing Plants
The corrosion resistance of stainless steel prevents foreign matter from adhering to it, thus maintaining a clean appearance. Food grade grease may be used for lubrication since it may come into contact with foodstuffs or products. Examples of use include food conveying equipment. 
3. High Temperature Environment
Stainless steel bearings specialized for atmospheric corrosion are used in high-temperature environments. Examples of use include the inside of metal baking furnaces.
4. Acid and Alkali Environments
Due to their resistance to corrosion, stainless steel bearings can be used for acidic and alkaline gas-liquid chemical transfers. Examples of applications include chemical equipment and plating equipment.
Features of Stainless Steel Bearings
Stainless steel bearings are characterized by the use of stainless steel. Stainless steel is defined by international standards as "an alloy steel" containing not less than 10.5% chromium and 1.2% carbon, respectively, with iron as the main component. It has excellent corrosion resistance and can be used in corrosive environments.
Some products are treated with ceramic or fluoroplastic depending on the intended use. By changing the materials used and adding processing, bearings are marketed to suit the application and environment in which they are used.
Types of Stainless Steel Bearings
The performance of stainless steel bearings varies depending on the type of stainless steel used. Stainless steel is assigned the symbol SUS.
Typical stainless steels used as materials are listed below.
1. SUS304
SUS304 is an austenitic stainless steel made by adding chromium and nickel to iron, and has high corrosion resistance and heat resistance. Because it contains chromium and nickel, its specific gravity and density are high, and because it is not magnetic, it does not adhere to magnets. It is a stainless steel material that is readily available in large quantities, although it is moderately priced.
2. SUS440C
SUS404C is a martensitic stainless steel made by adding chromium and carbon to iron. It has the highest hardness among stainless steels due to quenching and tempering, and is used when high strength is required. Its corrosion resistance is lower than other stainless steels.
3. SUS630
SUS630 is a precipitation hardening stainless steel whose strength is strengthened by adding copper. It is difficult to use in places where magnetism is generated due to its magnetic properties. it is classified into H900, H1025, H1075, and H1150 in JIS standard, and the lower the number, the harder it is.
Other Information on Stainless Steel Bearings
Rusting of Stainless Steel Bearings
Bearings are "parts that help things rotate." While supporting a rotating object, they play a role in reducing friction and creating smooth rotation.
Therefore, if they rust, not only can they not fulfill their intended role, but they can also cause mechanical failures due to sticking and deterioration. Therefore, bearings must be selected to withstand the operating environment. Stainless steel bearings are more expensive than steel or plastic bearings, but they have superior corrosion and heat resistance.
*Including some distributors, etc.
*Including some distributors, etc.