This section provides an overview for thrust bearings as well as their applications and principles. Also, please take a look at the list of 20 thrust bearing manufacturers and their company rankings.
What Is a Thrust Bearing?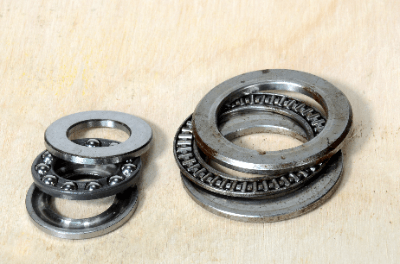 A thrust bearing is a bearing used to support loads in the axial direction (parallel to the shaft center). Thrust bearings generally do not support radial loads and are not suitable for use in high-speed rotating applications.
A bearing is a mechanical part to support a rotating body, such as a shaft, accurately and smoothly. When a shaft is rotated, the shaft is in contact with the supporting structure or support. This invariably generates resistance force and frictional heat due to friction, resulting in the loss of rotational energy. Bearings are used to prevent energy loss and heat generation due to friction.
The following standards related to thrust bearings and thrust bearings are interchangeable among manufacturers in terms of dimensions, etc.
Applications of Thrust Bearings
Thrust bearings are available in the following types, each of which has different applications.
1. Thrust Ball Bearings
Used in machine tool spindles, etc.
Single type: A single bearing consists of a shaft raceway, housing raceway, rolling elements (balls), and cage.
Duplex: A bearing consisting of a shaft raceway, housing raceway, rolling elements (balls), and cage in two pairs. Duplex bearings can accommodate axial loads in both directions.
To allow for mounting error, the housing raceway, whether single or double type, is available in spherical alignment type or with alignment washers.
2. Thrust Roller Bearings
Single, double, and triple rows are available to accommodate large loads, and the duplex type is used in the roll necks of rolling mills in steel production facilities.
Thrust roller bearings (thrust cylindrical and tapered roller bearings)
Spherical thrust roller bearings (spherical thrust roller bearings)
Thrust needle bearings
Thrust roller bearings
3. Thrust Metal Washers
Principle of Thrust Bearings
A thrust bearing consists of a housing raceway, shaft raceway, rolling elements (balls and rollers), and cage.
The shaft and shaft raceway support the axial load via balls or rollers, and the housing raceway supports the thrust load applied in a direction parallel to the shaft center axis. However, radial loads can also be supported by using thrust angular contact ball bearings.
Thrust roller bearings can also support large axial loads, while thrust needle bearings are used for smaller loads. Thrust spherical roller bearings can support large axial loads due to the spherical contact surface of the rolling elements on the housing raceway. This is also due to the degree of freedom in positioning the tapered rollers in relation to the rolling elements, which allows them to be aligned.
Lubrication of the bearing is very important when using thrust bearings. Especially for thrust spherical roller bearings, which have a complicated shape and it is difficult to distribute lubricant to all parts of the bearing.
Assembling Thrust Bearings
Thrust bearings must be assembled in the correct orientation because the assembly direction is fixed. It is especially important to determine the difference in size between the shaft raceway and housing raceway, with the shaft raceway having a smaller inner diameter. The raceway must be assembled in the correct orientation and in the correct order.
When assembling, thoroughly clean each part of the raceway and apply grease to the balls or rollers. (This is not necessary in the case of oil lubrication.)
*Including some distributors, etc.
*Including some distributors, etc.