This section provides overview, applications, and principles of ceramic bearings. Also, please take a look at the list of 16 ceramic bearing manufacturers and their company rankings.
What Is a Ceramic Bearing?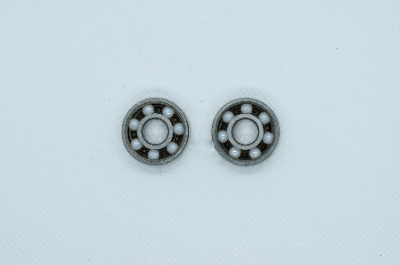 Ceramic bearings are made from ceramic material. Because ceramic is used, ceramic bearings are lighter than metal bearings.
Ceramic bearings are also more resistant to corrosion and wear than metal bearings. Therefore, ceramic bearings are used in corrosive environments and electromagnetic atmospheres.
Application of Ceramic Bearings
Ceramic bearings are widely used in consumer products. Typical examples are refrigerators, washing machines, and vacuum cleaners. Equipment near food or the human body may use ceramic bearings for hygienic reasons.
In industrial applications, ceramic bearings are used in clean rooms, vacuum environments, high-temperature environments, and underwater. Due to their high resistance to high temperatures and wear, they are suitable for equipment in the above environments. Examples of industrial applications are as follows.
Food and chemical manufacturing equipment
Bearings in generators and turbines
Liquid fuel transfer pumps
Semiconductor manufacturing equipment and space industry equipment
Inspection equipment and machine tools
Principle of Ceramic Bearings
Ceramics are inorganic compounds synthesized by combining metallic and non-metallic elements. The combination of metal and non-metal elements makes it lightweight and resistant to corrosion and high temperatures. It also has high hardness and wears resistance.
Ceramic bearings can be used in harsh environments because the material is ceramic. Since the characteristics vary depending on the type and combination ratio of the elements combined, a variety of ceramic bearings are available for different purposes.
Other special material bearings include resin bearings, stainless steel bearings, and urethane bearings. Each is used according to the application.
Other Information on Ceramic Bearings
1. Ceramic Bearing Life
Ceramic bearings are generally made of silicon nitride, which has higher rigidity than high-carbon chromium-bearing steel, the material used in metal bearings. This results in higher contact stress, and the difference in rigidity due to material does not simply translate into a difference in life.
Although the load rating of ceramic bearings is specified to be the equivalent of metal bearings, tests have confirmed that the life of ceramic bearings is equal to or greater than that of metal bearings. Therefore, the life tends to be longer than the calculated value. Flaking due to fatigue occurs in bearings that have reached their life expectancy, just as it does in metal bearings.
In addition, silicon nitride has about half the mass of high-carbon chromium-bearing steel. As a result, centrifugal force during rotation is small, heat generation is small, and thermal deformation is virtually non-existent. When rotating at high speeds under high temperatures, it exhibits superior characteristics to metal bearings.
2. The Accuracy of Ceramic Bearings
The accuracy of ceramic bearings is also determined by the accuracy grade of the bearing. Technically, it is possible to produce ISO Grade 3 or higher, but it is more expensive; ISO Grade 3 is ultra-high precision with a diameter of 12.7 mm or less, diameter variation, and sphericity of 0.08 μm or less. Therefore, they are used for special applications such as ultra-high-speed, high-precision spindles with rotational speeds of 100,000 RPM or higher.
In addition, ceramic bearings maintain their accuracy even under high temperatures because they are subject to less thermal expansion and thermal deformation than metal bearings. Therefore, they are suitable for use in high-temperature environments.
Although the rotational accuracy of a bearing requires the accuracy of the bearing itself, the housing and rotating shaft have a considerably greater effect. In addition to using high-precision bearings, the parts surrounding the bearing must also be machined to high precision. Since precision also depends on assembly, skilled assembly techniques are required for high-precision rotating equipment.
*Including some distributors, etc.
*Including some distributors, etc.