This section provides overview, applications, and principles of audio transformers. Also, please take a look at the list of 23 audio transformer manufacturers and their company rankings.
What is an Audio Transformer?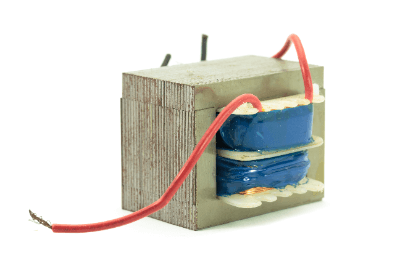 Audio transformers are transformers intended for use in audio signals.
While normal transformers are designed for commercial power frequencies (50 Hz or 60 Hz), audio transformers are designed with an emphasis on the audible range of 20-20000 Hz. Unlike digital signal transformers, signal distortion is taken into account so that analog signals can be transmitted as they are. Taking advantage of the transformer's characteristic of converting AC current once into a magnetic field, the ground can be separated (ground isolation). This minimizes the effects of hum noise and other electromagnetic fields. Therefore, it can be utilized for transmission of minute analog signals over long distances and can provide strong common-mode noise countermeasures, especially in the transmission of microphone signals. Because impedance conversion is possible, transformers are also used to convert the high-impedance output of vacuum tubes into a low-impedance output for speakers.
Uses of Audio Transformers
There are two main types of uses for audio transformers. Audio signal input/output (microphone input or line level) or output to speakers (high impedance to low impedance conversion).
For audio input/output, ground isolation is possible, making it suitable for long-distance transmission, and unbalanced input/output equipment can be easily converted to balanced input/output, making it possible to create noise-resistant equipment.
Output to speakers is used in vacuum tube amplifiers. Since tube outputs are high-voltage and high-impedance, they cannot always be connected directly to low-impedance speakers. Therefore, it is used as an impedance converter.
In addition, it is also possible to attain amplification gain by changing the winding ratio. For example, there is a transformer used for microphone input called LL1538. This transformer has a winding ratio of 1:1:5, and by using the primary side in parallel, a winding ratio of 1:5 can be obtained, making it possible to amplify the signal by a factor of 5.
Principle of Audio Transformers
The principle is the same as that of a normal transformer: convert the current once into a magnetic field, and then convert it again into current to provide ground isolation and impedance conversion.
The impedance ratio is proportional to the winding ratio. This can be used to amplify the signal. In addition, due to its principle, it is impossible to store a magnetic field indefinitely, so it cannot transmit in direct current. Even at low frequencies, the signal must be an alternating current signal.
A characteristic of audio transformers is that they can transmit AC signals in the 20-20000 Hz range with low distortion. Whereas normal transformers focus on size and power capacity, audio transformers are characterized by lower distortion. These characteristics are suitable for transmitting audio signals accurately.
These characteristics make them more commonly used in professional audio equipment than in consumer equipment. This characteristic is especially useful in studios, live venues, and other sites that are subject to severe noise. In addition, even if sudden spike noise flows, common mode can protect the circuitry of the equipment.
*Including some distributors, etc.
*Including some distributors, etc.