This section provides overview, applications, and principles of power transformers. Also, please take a look at the list of 35 power transformer manufacturers and their company rankings.
What Is a Power Transformer?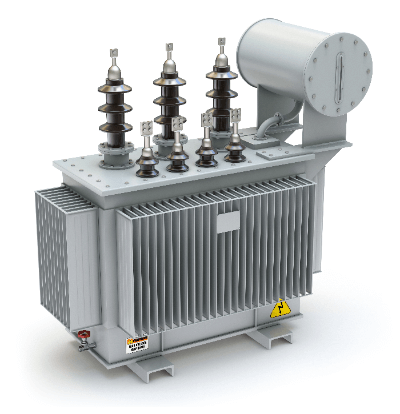 A power transformer is a device that uses electromagnetic induction to step up or down the voltage of an AC power supply. Its name comes from the fact that it changes the power supply.
Electricity produced at a power plant is distributed to factories and homes via transmission lines. At power plants, electricity is produced at ultra-high voltages of tens of thousands of volts. Since it is dangerous to use electricity in general households as it is, it is stepped down by a power transformer and distributed.
Uses of Power Transformers
Power transformers are used in many locations from industrial to residential applications. Specific applications are as follows
For power conversion in power plants and substations
Power supply for factories and commercial facilities
For power transmission to general residences
For lightning protection of power supply equipment
Inside old AC adapters
Power transformers can be said to be indispensable equipment for the use of electricity.
Principle of Power Transformers
The power transformers consists of two coils (spring-wound copper wire) and an iron core.
When electricity flows through the primary coil, a magnetic force is generated inside the iron core and reaches the secondary coil. The secondary coil receives the magnetic force and voltage is generated at both ends. This phenomenon is electromagnetic induction. The power transformers skillfully utilizes the electromagnetic induction action to step up and step down the voltage.
The primary and secondary coils are completely separated and insulated by a winding frame called a bobbin. In other words, the power transformers electrically isolates the primary and secondary coils while transmitting electrical energy through electromagnetic induction. This insulating effect prevents abnormalities that occur on the power supply side from being transmitted to the demand equipment side.
Types of Power Transformers
Power transformers are mainly classified into two types: oil-filled transformers and molded transformers.
1. oil-filled transformer
This is a transformer in which the windings and iron core are immersed in insulating oil. Although transformers generate heat when used, they can be hermetically sealed because the insulating oil can be used as a refrigerant. Because the windings and iron core are hermetically sealed, outdoor installation is also possible.
However, if the insulating oil is mineral oil, it can cause soil contamination, so care must be taken to prevent leakage. In recent years, oil-filled transformers that use vegetable oil have been marketed in consideration of the environment.
2.Molded transformer
This is a transformer in which the windings and iron core are covered with epoxy resin. Since no insulating oil is used, they are easy to maintain. However, they must be installed indoors due to the limited means of heat dissipation. Another disadvantage is that they are more expensive than oil-filled transformers.
Other Information on Power Transformers
1. Role of power transformers
Power transformers has two roles: transforming and insulating.
Transformer
The role of a transformer is to step up and down the voltage of generated power to a voltage suitable for use. In general households, the voltage is stepped down to 100 volts. In industrial applications, 200 volts or 400 volts is the most common voltage used.
In power transmission and distribution applications, ultra-high voltages such as 66,000 volts are used to reduce transmission losses. In some cases, transformers are used as a countermeasure against voltage drop. The longer the transmission distance, the lower the voltage at the location of use, resulting in a voltage drop phenomenon. This voltage drop phenomenon can be counteracted by slightly boosting the voltage with power transformers.
Isolation
In general power transformers, the input and output wires are not connected. Electricity on the input side is transmitted to the output side by electromagnetic induction. Thus, a transformer in which the input and output are separated is called an "isolation transformer" and prevents abnormalities on the input side from being transmitted to the output side. 2.
2. voltage of power transformers
Power transformers have voltages commonly used in Japan.
Low voltage
The most commonly used low-voltage voltages are 100 volts, 200 volts, and 400 volts. 100 volts is used for household power supplies. 100 volts is used for household power supplies, etc., while 400 volts is used for large equipment in factories, etc.
High voltage
The most commonly used high voltages are 3,300 volts and 6,600 volts. Most electric power companies use 6,600 volts.
Special high voltage
Special high voltage is an ultra-high voltage used between substations and in huge factories. 66,000 volts and 154,000 volts are mainly used for power transmission and distribution.
*Including some distributors, etc.
*Including some distributors, etc.