This section provides overview, applications, and principles of slide switches. Also, please take a look at the list of 36 slide switch manufacturers and their company rankings.
What Is a Slide Switch?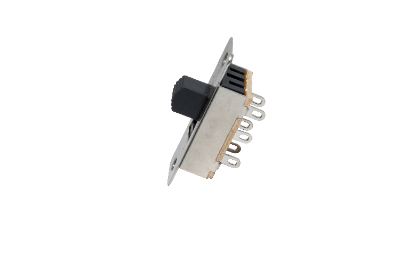 A slide switch is an operating switch switched on and off by sliding a knob.
There are vertical slide switch and horizontal slide switch, and while they are used in familiar electrical appliances, they are becoming less common in products that are being digitized.
Slide switch terminals can be connected in various ways, including through holes, right angles, solder, and screws.
In recent years, miniaturization has progressed, and some products are mounted on DIP switches.
Select a product according to the number of circuits and terminals required, but most products are non-shorting.
Uses of Slide Switches
Slide switches are mainly used for switching power on and off. In general households, they are often seen in power supplies for microphones, fans, shavers, hair dryers, flashlights, and other lighting fixtures.
Some of these products are as thin as 1.4 mm in thickness and are becoming smaller and smaller. Compact slide switches are sometimes incorporated into DIP switches, but they are also used in ultra-compact products for low currents, surface-mounted products, and board-mounted products. Some products have a self-cleaning effect by devising a contact mechanism.
Principle of Slide Switches
Slide switches has terminal inside, which serves as a contact point and is connected to the circuit. Underneath the knob of the switch is a movable metal slice, which is connected to the circuit when it makes contact with the terminal, and the terminal can be switched by switching the knob. Slide switches are mainly used for on/off switching, so they are often non-shorting types.
Copper alloy is often used for contact points (terminals), but gold and silver are also available for use in the microcurrent range. Some products seal the terminals with epoxy resin to enhance stability.
Also, products that make contact at two points are more reliable as switches than those that have a single point of contact between the movable cutout and the contact point. Furthermore, a clip-type, sliding contact method can be expected to have a self-cleaning effect.
After selecting a product that matches the number of circuits and contacts (number of terminals), check the rated current, voltage, and load. Smaller switches often have lower withstand current and voltage.
Structure and Types of Slide Switches
Depending on the application, there are different types of switches, such as detection switches used to detect the position of an object, operation switches for human operation input, and setting switches for switching on a function. The following types of switches can be classified by structural characteristics and are used in various places, such as industrial equipment, facilities, and consumer equipment.
Classification of Switches by Structure
Push Switches: As the name suggests, this is a switch that is switched by pushing a button.
Toggle Switch: A switch toggles by moving a lever up and down or left and right.
Rocker Switch: A switch toggles by pushing both ends of a button.
Slide Switch: As the name suggests, this switch is switched by sliding the button.
Rotary Switch: A switch toggles by turning a knob in the switch section.
Micro Switch: Switches that can be switched by a slight force.
DIP Switch: A switch mounted on a circuit board is used for various settings of electronic devices.
Tactile Switch: A small switch mounted on a circuit board energizes an electric circuit when someone pushes the switch in.
As the name suggests, the structure of slide switches are such that the slider portion of the switch can be slid. It is common for a switch to switch between two states by performing a slide. For example, the operation of performing slide switches the function or power supply of an electronic device on or off. It is also used for the microphone you hold at karaoke.
Although they have a single function of switching between two states, slide switches come in various shapes, including DIP components, surface-mounted components, large or small switches, and switches arranged vertically or horizontally in relation to the mounting surface.
In addition, there are various types of slide switches with different poles and throws in the lineup in terms of circuitry. The pole of a switch refers to the number of circuits, which indicates the number of circuits that can be opened and closed by performing a single operation. Sliding a switch indicates how many circuits can be switched on and off simultaneously. The throw of a switch refers to the number of contacts and shows the number of operations that can be performed with the switch. (The throw of slide switches are generally a double-throw type, meaning two contacts.)
*Including some distributors, etc.
*Including some distributors, etc.