This section provides an overview for selector switches as well as their applications and principles. Also, please take a look at the list of 37 selector switch manufacturers and their company rankings.
What Is a Hygrothermograph?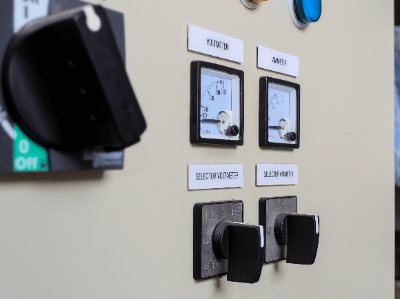 A hygrothermograph is a device used to measure temperature and humidity. They are used to measure indoor and outdoor temperature and humidity.
The measurement methods and functions of thermometers vary from one type to another. For example, the range of temperatures that can be measured depends on which product is used. Some products can measure temperatures to very low, while others are suitable for measuring high temperatures exceeding several hundred degrees. Also, whether the product can measure in contact with the object to be measured or not depends on the product.
There are several hygrometer measurement methods, the most common being the bimaterial type and the digital type.
Uses of Hygrothermographs
Hygrothermographs provides data on the temperature and humidity of an environment. These data are essential for monitoring and controlling changes in the environment. For this reason, temperature/humidity measuring instruments are widely used in semiconductor manufacturing plants, chemical storage facilities, and other locations where changes in temperature and humidity have an impact.
When installing hygrothermographs, care must be taken to ensure that the equipment considered is appropriate for the environment in which it will be used. For example, a corrosion-resistant device should be selected if the environment is exposed to corrosive gases or chemicals.
Principle of Hygrothermographs
Each hygrothermograph measures temperature and humidity differently.
Thermometers can be divided into three main categories: electrical (digital) thermometers, bimetallic thermometers, and glass thermometers. Digital thermometers use an electrical method of measuring temperature. Thermocouples and thermistors measure the thermoelectromotive force or change in electrical resistance that occurs in dependence on temperature.
Bimetal thermometers, on the other hand, use bimetals, which are made by welding two types of metal plates with different thermal expansion coefficients. The phenomenon of metal plates warping due to expansion caused by temperature changes is used for measurement.
The most common hygrometers are electric resistance (digital), bimaterial, and hair hygrometers. Digital hygrometers calculate humidity based on the change in electrical resistance of a dry/humidity element. Dry humidity elements such as semiconductors, ceramics, and polymer membranes have the property of decreasing electrical resistance as humidity increases. Hydration can be estimated by passing an electric current through the dry element and measuring its electrical resistance.
Bimaterial hygrometers measure humidity using a method similar to that of bimetallic thermometers. This one uses the difference in humidity-dependent shrinkage rate instead of the coefficient of thermal expansion.
*Including some distributors, etc.
*Including some distributors, etc.