This section provides an overview for dip switches as well as their applications and principles. Also, please take a look at the list of 24 dip switch manufacturers and their company rankings. Here are the top-ranked dip switch companies as of September, 2023: 1.Cit Relay & Switch, 2.NEXUS COMPONENTS GmbH, 3.CUI Devices.
What Is a DIP Switch?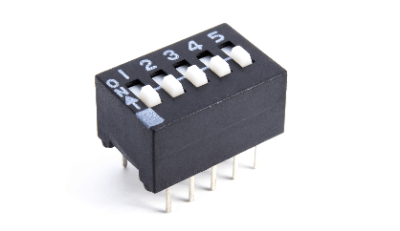 A DIP switch is small switches used in printed circuit boards. They are tiny, with a distance of about 3 mm between terminals and a height of about 3 mm, and are switched with a precision screwdriver or the like. They are used as setting switches and are used for infrequent operations.
Operating methods include slide switches, push-lock switches, and rotary switches. There are also types that are inserted into a hole in the board or mounted on the board. Various types are available in terms of the number of poles and sealing performance.
Uses of DIP Switches
DIP switches are incorporated into a wide range of products, including home appliances, communications equipment, and audio equipment. In industrial applications, they are used in temperature controllers and servo controllers.
They are also used in office automation equipment, for example, in personal computers and storage boards. They are mainly used for basic settings of electronic equipment. To withstand a wide variety of usage conditions, various types are available, including heat-resistant types that can withstand high temperatures and low-profile types.
Principle of DIP Switches
Like an ordinary switch, DIP switches are used to switch on and off to conduct or disconnect circuits. A knob called a striker and a sliding element are interlocked, and the circuit is switched when the sliding element and the contact point make contact or open. The striker also serves as a weight that brings the slider and contacts into contact.
The contacts and terminals are molded together with the base resin. The base resin is made of highly heat-resistant plastic because it is subject to high temperatures during soldering. By molding the components as one piece, the size and weight can be reduced. The base resin also serves to protect the terminals.
There are two types of contact terminal shapes: those that are inserted into board holes and those that are surface-mounted. Since the switch is likely to be left unattended for a long period of time, gold plating may be applied to the contacts to prevent oxidation. Some products have a self-cleaning mechanism that cleans the contacts during sliding to remove foreign matter and oxides.
DIP switches are so small that a fine-tipped screwdriver or tweezers are required to switch them.
Types of Switches and DIP Switches
There are different types of switches for different applications. The following types of switches are used in a variety of industrial and consumer applications.
Types of Switches
Push Switches
As the name suggests, this is a switch that is toggled by pushing a button.
Toggle switches
A switch that is toggled by moving a lever up and down or left and right.
Rocker switch
A switch that is toggled by pushing both ends of a button.
Slide switch
As the name suggests, this switch is switched by sliding the button.
Rotary switch
A switch that is toggled by turning a knob in the switch section.
Micro switch
Switches that can be switched by a slight force.
DIP switch
A switch mounted on a circuit board used for various settings of electronic devices.
Tactile switch
A small switch mounted on a circuit board that energizes an electric circuit when a person pushes the switch in.
Types of DIP Switches
Slide type
Switches by sliding the actuator. There are switches with flat or convex actuators.
Piano type
Switches by pushing down the actuator. The lever can be short or long.
Rotary type
The value is set by rotating the actuator. There are types in which the actuator is operated from the vertical upper surface of the board and others in which the actuator is operated horizontally.
Other than the actuator, there are various types depending on the mounting method, number of poles, and other characteristics.
Structure of DIP Switches
The structure of DIP switches consists of four parts: the cover, the striker, the slider, and the base. The cover is an injection-molded resin part that covers the top surface of the switch. It mates with the base to protect the internal mechanism.
The striker is the actuator of the switch. It transmits force to the slider to actuate the contacts. The striker is a movable contact made of a fabricated metal plate or other material. The base integrates the metal terminal and contacts by resin injection molding, and is made of heat-resistant resin material.
*Including some distributors, etc.
*Including some distributors, etc.