This section provides overview, applications, and principles of sealing materials. Also, please take a look at the list of 3 sealing material manufacturers and their company rankings.
What Is a Sealant?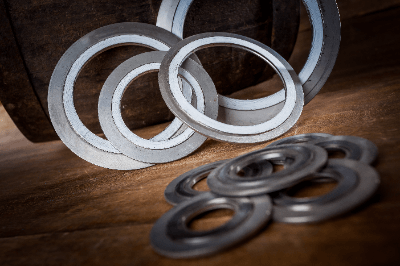 Sealants are parts or materials that fit into gaps between components to prevent leakage of fluids such as liquids and gases.
Sealing materials made of parts are called gaskets, packings, or O-rings, while sealing materials made of hardened chemicals are called seals or caulks. There are also sealing materials, such as sealing tape wrapped around screws in plumbing joints such as water and gas lines.
As shown above, there are various names for sealing materials depending on the material and the location where they are used, such as fixed or movable parts.
Uses of Sealants 
The main use of sealants is to seal components. Piping and structural materials inevitably leave gaps when they are assembled, and sealing materials are used to close these gaps. In addition to sealing components and preventing leakage of internal liquids and gases, sealing materials also prevent the entry of foreign substances from the outside.
Depending on the fluid to be sealed, it is necessary to select a material with heat resistance and chemical resistance and also to consider whether it is used for fixed or movable parts. Since deterioration of seal materials due to wear and corrosion is inevitable, periodic replacement is necessary.
Principle of Sealants
Sealants made of components such as gaskets, packings, and O-rings seal by crushing an elastic material with a structural material and sealing the gap with its repulsive force. In contrast, bonded sealing materials such as silicone and polyurethane seal by sealing gaps through a chemical reaction that causes the chemicals to harden.
Sealing materials using the repulsive force of elastic materials require structural material dimensions to be designed to account for changes in thickness caused by the tightening of the structural material. Materials and dimensions are determined by JIS standards. Sealing materials by chemical hardening have a wide range of material performance, including composition, environmental compatibility, and a number of chemicals to be mixed. All of these must be selected according to application and performance.
Since the fluid is always flowing in areas where sealants are used, deterioration is inevitable due to friction and other factors. Therefore, periodic maintenance and replacement are required. In addition, depending on the environment in which they are used, they must also be used in accordance with various laws and regulations, such as the Food Sanitation Law, in addition to the purpose of use and characteristics.
About Packing Sealant Materials
There are various types of sealant materials. Packing, oil seals, gaskets, etc., must be used differently depending on the application. Otherwise, they cannot fulfill their original purpose of preventing liquid leakage. Here, we will introduce you to sealant materials. First, sealants used for moving parts are called packing. The sealing material used for the part to be sealed that does not move is called a gasket.
To classify packing in more detail, the sealing material used depends on whether the part to be sealed moves in a rotary or linear motion. Rotational motion is like a pump that seals the space between the shaft and housing. Linear motion is like a piston, it seals the space between the piston and the housing, which is pushed out by hydraulic pressure.
Rotational motion is further classified by whether or not there is contact. Typical sealing materials are shown below. If there is contact, oil seals are used, for example. The point to note with the contact type is that if the packing is applied too strongly, the shaft will not rotate. The packing will be torn apart by the force of friction. If this is repeated, the shaft will wear out, and the repair cost will be high.

If there is no contact, use a labyrinth seal. Since there is no contact area, there is no deterioration due to wear, and loss of shaft power can be reduced. The sealing performance is inferior to that of the contact type.
Next, for linear motion, lip packing and squeeze packing are used. Both are self-sealing packings that prevent leakage by fluid pressure. Lip packing includes U-packings, and squeeze packing includes O-rings.
On the other hand, Gaskets can be classified into metallic and non-metallic gaskets. The main place where they are used is at the flange of piping. Commonly used are rubber gaskets and liquid gaskets. Liquid gaskets are very useful sealing materials. Even if the connection surface is rough, the liquid penetrates and prevents leakage. Even after the liquid has hardened, its elasticity makes it resistant to vibration and suppresses deformation over time. However, the disadvantage is that it takes time for the liquid to harden. Sealing tape used on the threads of piping is also classified as a gasket.
*Including some distributors, etc.
*Including some distributors, etc.