This section provides an overview for metal halide lamps as well as their applications and principles. Also, please take a look at the list of 6 metal halide lamp manufacturers and their company rankings.
What Is a Metal Halide Lamp?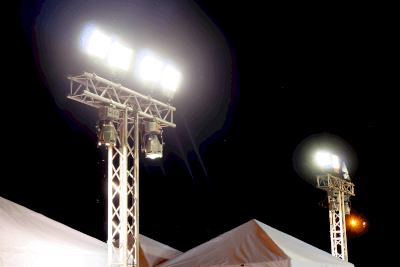 A metal halide lamp is a type of high intensity discharge lamps (HID lamps) that uses a discharge in a mixed vapor of mercury and metal halides. Metal halide lamps are characterized by their high color rendering and high luminous efficiency.
The Minamata Convention on mercury banned the manufacture, export, and import of mercury lamps after 2021, but metal halide lamp are exempt from the ban. As a result, mercury lamps are being replaced by metal halide lamp.
Uses of Metal Halide Lamps
Metal halide lamps and other HID lamps are much brighter than fluorescent lamps and other lamps used in ordinary households. Among them, metal halide lamps offer higher luminous efficiency and better color rendering than other HID lamps. For this reason, metal halide lamps are used for lighting in various indoor and outdoor facilities, such as sports facilities, commercial facilities, exhibition halls, and roads. They are also used as light sources for optical equipment such as projectors.
On the other hand, they cannot be used for emergency lighting because of the time required to turn on and off again. In recent years, they are increasingly being replaced by LEDs due to their longer life span.
Principle of Metal Halide Lamps
Metal halide lamps consist of quartz glass or ceramic tube filled with mercury and metal halides. The metal halide is evaporated by an arc discharge and dissociated into metal atoms and halogen atoms under high vapor pressure. The collision of the metal atoms and electrons emits light at a wavelength specific to the metal. Iodide compounds such as sodium iodide and scandium iodide are often used as metal halides, and by optimizing the compound materials and mixing ratio, color rendering and luminous efficiency can be improved.
Lighting and maintaining metal halide lamps requires fine control. At the start of lighting, a high-voltage pulse wave is generated using an igniter to cause a discharge. After the lamp is turned on, a ballast is used to control the lamp to maintain a constant voltage and current regardless of changes in ambient temperature or deterioration over time, in order to keep the light of the lamp constant.
*Including some distributors, etc.
*Including some distributors, etc.