This section provides an overview for tube lighting as well as their applications and principles. Also, please take a look at the list of 15 tube lighting manufacturers and their company rankings.
What Is Tube Lighting?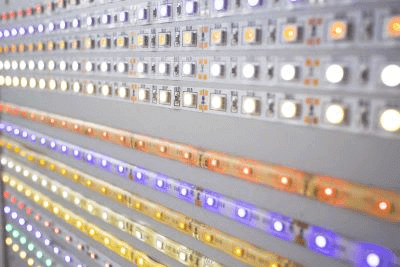 A tube lighting is an LED rope light, which is an LED lighting fixture consisting of numerous LED light bulbs interconnected in a transparent, soft tube along with equally spaced wires.
Since the bulbs are covered with soft tubes, they are extremely durable.
Not only are there a variety of light intensities and light colors, but there are also a variety of light emission patterns.
A wide variety of LED tube lighting is available, depending on the type of LED bulbs used. The spacing of the LED bulbs, the thickness and length of the tube, and whether it is waterproof.
Uses of Tube Lighting
Tube lighting is used not only for indoor and outdoor illumination, but also for warning lights at construction sites.
Other uses include the following:
They are used for casement on buildings, fences, roofs, and outdoor signage.
Bending and framing to create letters, animals, Christmas trees, stars, and other decorations.
They are also used for indirect lighting in stores and bar counters, and for display lighting in showcases, product shelves, and collection racks.
They are also used for stage productions, TV studios, and lighting for events and concerts.
Principle of Tube Lighting
Tube lighting is a soft, transparent tube in which a large number of LED bulbs are embedded at regular intervals and sealed together with wiring.
Some tube lighting is less prone to failure, preventing all the LEDs in a connected unit LED group from emitting light even if one of the LED bulbs breaks while being used as illumination.
As a result, they are more resistant to shocks, breakage, and bending than regular illumination and can be used outdoors.
In addition, those for illumination can be cut to the required length and processed for use according to the cutting unit of the product. Connectors can be used to process and create various shapes, and they can be stretched or suspended in various directions.
Furthermore, tube lighting is water-resistant and can be used outdoors in almost all cases, since the LED bulbs and wiring are both connected inside a transparent tube.
The flexibility of the tube lighting also allows it to be installed in any desired shape, allowing it to be adapted to the logo or other shape of the signage.
While some tube lighting use small bulbs, LED tube lighting is superior in terms of long life and low power consumption.
LED tube lighting does not have a built-in power circuit or controller.
Therefore, a terminal is provided at the end of the tube and the corresponding power supply or controller is connected to the terminal.
In some cases, the terminals are already installed when shipped from the manufacturer, but in many cases, they must be cut to the desired length for installation, which may require soldering or other modification of the terminals.
AC or DC adapters are used as the power source for tube lighting, depending on the installation location.
*Including some distributors, etc.
*Including some distributors, etc.