What Is a Silver Oxide Battery?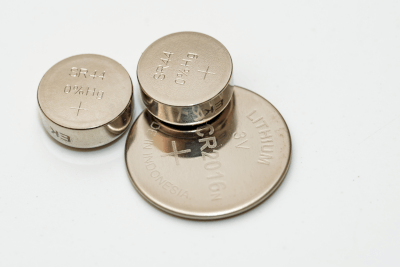 Silver oxide batteries are batteries that use silver oxide and zinc as electrodes and are also called SR batteries.
Because of their high energy density per unit volume, they tend to have a higher electrical capacity than alkaline batteries. Taking advantage of the fact that large-capacity batteries can be made even in small sizes, they are often used where small and thin batteries are required (like button batteries).
Depending on the manufacturer and product, there are also types designed to be free of mercury and lead (which are hazardous substances with negative environmental impact).
Applications of Silver Oxide Batteries
The main features of silver oxide batteries are that the operating voltage remains constant until the end of discharge and that the electrical capacity per unit volume is high. Significant examples of applications include power supplies for medical equipment and precision instruments.
Silver oxide batteries are suitable for power supplies for precision instruments and medical equipment, which require high-precision voltage control due to their excellent stability of operating voltage. For example, they are incorporated in quartz clocks, where even the slightest time deviation is not tolerated, and various measuring instruments, calculators, and other electronic devices.
Principle of Silver Oxide Battery
Silver oxide batteries use silver oxide as the positive electrode and zinc as the negative electrode. The following chemical reactions occur between the electrodes and electrolytes in the battery to generate electricity:
Reaction at the positive electrode: Ag2O+H2O+2e- → 2Ag+2OH-
Reaction at the anode: Zn+2OH- → ZnO+H2O+2e-
Reaction in the whole system: Ag2O+Zn → 2Ag+ZnO
On the anode side, electrons (e-) are released when zinc (Zn), which has a high ionization tendency, reacts with hydroxide ions (OH-). On the cathode side, silver oxide (Ag2O) reacts with water (H2O) and is reduced to silver (Ag).
Various types of alkaline aqueous solutions are used as electrolyte solutions, resulting in excellent load-discharge characteristics. Batteries that use potassium hydroxide solution as the alkaline solution are classified as the W type, and those that use sodium hydroxide solution are classified as the SW type.
The W-type and SW-type batteries are suitable for different applications: the W-type is suitable for digital or multi-functional watches with relatively high loads, while the SW-type is suitable for analog watches with low loads.
*Including some distributors, etc.
*Including some distributors, etc.