This section provides an overview for screw thread inserts as well as their applications and principles. Also, please take a look at the list of 30 screw thread insert manufacturers and their company rankings. Here are the top-ranked screw thread insert companies as of June, 2023: 1.Hi-Tech Fasteners, Inc..
What Is a Screw Thread Insert?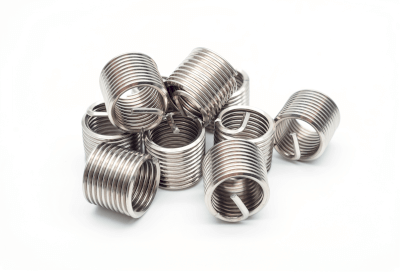 A screw thread insert is a mechanical part used to strengthen a tap when the strength of the base material to be screwed is too weak to drill a tap, or when the tap is too weak to drill a tap and the tap tends to collapse.
A Screw thread insert is used to create strong female threads to fasten lighter and weaker materials.
There are different types of screw thread insert, such as E-serts and inserts, which are commonly used in metals, and plastic inserts used in plastics.
Uses of Screw Thread Inserts
Used when you want to drill a tap into a plastic part. In the case of plastic, a hole can be drilled and then fastened with a tapping screw, but screw thread inserts are often used because they are not strong enough and cannot be attached and removed many times.
In the case of metal, screw thread inserts are used when the screw diameter is small (e.g., M3) or when the thread grip is small (usually less than 3 threads), because the tap is easily destroyed when the screw is tightened strongly.
Thread inserts are also used for repairing tapped parts that have become lapped. By drilling a tap with a slightly larger diameter and inserting screw thread inserts into it, it is possible to fix a screw with the same diameter that has become tapped.
Principle of Screw Thread Inserts
Insert nuts are used to secure fastening strength in soft metals, plastics, ceramics, and other materials that can be tapped as they are. In the case of plastic parts, there are not only insert nuts that are incorporated during molding but also outsert nuts that are pressed in with heat or pressure after molding. Both types of nuts have knurling around the periphery, and the knurling engages the plastic to prevent it from coming off. The shape of the knurling differs from company to company, and each has its own product name.
Coiled E-serts and inserts are commonly used for metals. E-serts are inserted with a special tool into a designated tapped hole, but repeated insertion and removal of screws may cause the helisert to fall out. Inserts can be inserted with a bolt into a drilled hole and are often used for on-site repairs. The threads of the insert are stronger than those of the E-Sert.
*Including some distributors, etc.
*Including some distributors, etc.