What Is a Hardness Tester?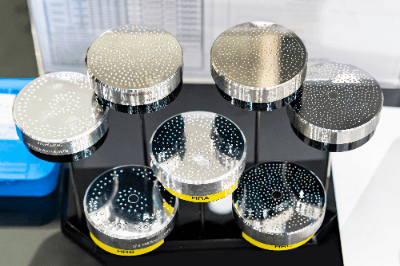 A hardness tester is a reference piece (test piece) used to calibrate the measuring equipment when measuring hardness.
The shape is that of a disk. As a confirmation, before measuring the hardness of a material, a hardness test is performed on a reference tester with a known hardness value. The hardness tester is used for this purpose.
Since hardness itself cannot be directly measured, a reference standard is necessary. This is used to confirm that this standard value is known and that the hardness tester used outputs the standard value.
Uses of Hardness Testers
Hardness may be checked as one of the quality check items for industrial parts and test parts, especially for heat-treated parts and components that require a certain level of hardness.
There are several types of hardness (HRC, HRB, HRA, Hv, HS, HB, etc.), and each type of hardness has its own hardness testers.
Since the principle and method of measurement differ depending on the type of hardness, it is necessary to use hardness testers of the appropriate hardness.
Principle of Hardness Testers
In the industrial field, heat treatment is often used to obtain the necessary mechanical properties. However, when checking the quality of material strength, such as tensile strength, it is not reasonable in terms of time or money to perform the relevant strength check, and in some cases, only destructive testing can be used to check the quality.
Hardness is often used as an alternative characteristic to confirm this quality.
Hardness measurement is relatively easy, and in the case of surface hardness measurement, although a minute trace is left when measuring, the trace can be removed by machining allowance in the subsequent process (turning or grinding).
For example, in the case of the HRC scale, which measures relatively high hardness, hardness is calculated from the size of the indentation generated on the surface of the workpiece by pressing a hard indenter of a specified size against the workpiece with a specified load.
The hardness testers are made so that the indentation produced at this time falls within a known reference value. However, the hardness testers do not guarantee an absolute value of hardness, but rather a hardness within a predetermined range.
This is due to the fact that the indenter that calibrates the hardness testers (guaranteeing that the hardness is within a predetermined range) is also unable to fully calibrate the absolute value. Therefore, the hardness testers will not be the one that guarantees the absolute value of hardness, but the one that guarantees the output of hardness in a given range.
*Including some distributors, etc.
*Including some distributors, etc.