This section provides an overview for coriolis flowmeters as well as their applications and principles. Also, please take a look at the list of 20 coriolis flowmeter manufacturers and their company rankings.
What Is a Coriolis Flowmeter?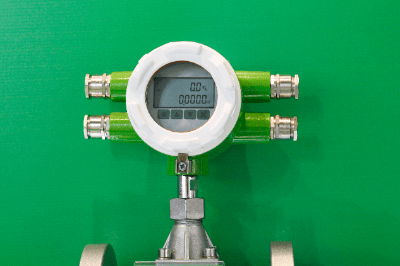 A Coriolis flowmeter is a flowmeter that uses the Coriolis force.
It is one of the few flowmeters that can measure mass flow and is frequently used in pharmaceutical and food manufacturing processes where mass flow measurement is required.
Most other flowmeters can only measure volumetric flow. To obtain the mass flow rate from the volumetric flow rate, a conversion must be made using a pressure gauge, thermometer, density meter, etc. Coriolis flowmeter can provide mass flow measurement results with high accuracy.
Uses of Coriolis Flowmeters
Coriolis flowmeters are mainly used to measure mass flow rates.
Volume flow rate is affected by pressure and temperature. Mass flow measurement is used when errors due to these effects cannot be tolerated.
One example where mass flow measurement is used is the measurement of raw materials in pharmaceutical and food manufacturing processes. Other scenarios include the transportation of petroleum products, where the fluid temperature changes significantly before and after the product transaction. Liquefied natural gas (LNG), liquefied petroleum gas (LPG), etc., where the properties of the gas vary greatly depending on its place of origin.
Principle of Coriolis Flowmeters
Coriolis flowmeters use the Coriolis force, a type of inertial force.
Coriolis flowmeters can accurately measure mass flow, volume flow, density, and temperature.
Inside the Coriolis flowmeters is an artificially vibrated flow tube. As the fluid passes through the tube, a Coriolis force is generated in proportion to the mass and velocity of the fluid. By measuring the angle of twist of the tube caused by this force, the mass flow rate can be obtained.
The flow tube oscillates at its vibration frequency, and the density of the fluid can be obtained from the frequency, which varies with the density of the internal fluid.
A thermometer is installed inside the flowmeter, and this temperature information is used to compensate for the hardness of the flow tube, enabling highly accurate measurements.
Volumetric flow rate, concentration, specific gravity, etc., can be calculated simultaneously based on the measured information.
Since only the flow tube is in contact with the fluid and there are no moving parts, various fluids can be measured accurately.
*Including some distributors, etc.
*Including some distributors, etc.