This section provides an overview for digital gauges as well as their applications and principles. Also, please take a look at the list of 14 digital gauge manufacturers and their company rankings. Here are the top-ranked digital gauge companies as of November, 2023: 1.Precision Mass Products Pvt. Ltd..
What Are Digital Gauges?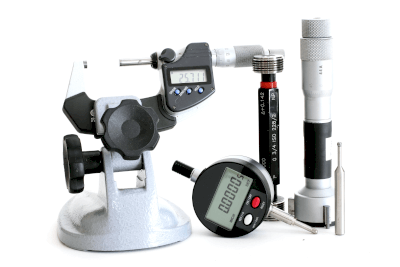 Digital Gauges are a type of measuring instrument used to measure minute changes in height, inclination, depth, etc. of a point relative to another point.
Since gauges cannot be used by themselves, they are used by fixing them to equipment according to their purpose.
Digital Gauges may be called by different names depending on the seller, such as a Digimatic Indicator.
There are also dial gauges, which are simple in construction and resistant to shocks, but their accuracy is not as high as that of Digital Gauges.
Applications of Digital Gauges
Digital Gauges are widely used in the production of various products to ensure accuracy and for various tests. Although it is possible to directly read the numbers on gauges, they are mainly used to derive the desired rate of change from the amount of change in the numbers.
Digital Gauges can measure displacement in micrometers, so they can be used to measure fine details such as surface steps, hole depths, and thicknesses of parts, and they can also be used to measure large, visible changes such as distortion when pressure is applied to building materials, automobile parts, etc.
Principles of Digital Gauges
Digital Gauges are available in several types, the most common of which are the spindle type and the photoelectric type.
In the spindle type, a spindle is brought into contact with the surface of the object to be measured, and the ups and downs of the tip of the spindle in accordance with changes in the object's shape are output as measurement results. This method is also often used for dial gauges, and is suitable for objects with a large amount of change.
The photoelectric type has a contact part similar to the spindle type, but instead of directly outputting the motion as a measurement result, it measures the phase displacement of the light generated from the light source when it reaches the light receiving element through two slits (a moving slit linked to the spindle and a fixed slit) (the phase changes with a trigonometric function according to the movement of the moving slit) and converts it into a measurement result. Since the displacement can be checked in detail, it is more suitable for measuring minute changes than the spindle type.
*Including some distributors, etc.
*Including some distributors, etc.