This section provides an overview for water quality sensors as well as their applications and principles. Also, please take a look at the list of 15 water quality sensor manufacturers and their company rankings.
What Is a Water Quality Sensor?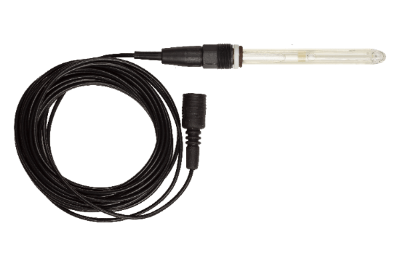 Water quality sensors are a combination of multiple sensors to measure water quality. Depending on the product, most are equipped with sensors for pH (hydrogen ion concentration), ORP (oxygen reduction potential), DO (dissolved oxygen), EC (electrical conductivity), and others. In addition to these items, there are also types that can measure water temperature, water level, water pressure, etc. In addition, there are two types of sensors: installed types and portable types that can be carried around. The portable type consists of a stick-shaped sensor and the main unit (monitor and buttons) connected by a cable. The electrode is placed into the water surface and the values are read from the panel on the main unit.
Uses of Water Quality Sensors
Water quality sensors are mainly intended for use in the field, in factories, and in other practical settings. For example, they are used by research institutes to measure water quality in rivers, lakes, and the sea. In agriculture to manage hydroponics, liquid fertilizer, and agricultural wastewater; and in factories to control wastewater. Because of the risk of falling when used outdoors or in the field, the instruments are designed to be robust and easy to operate, even with one hand. Some models are also available that are highly adaptable to heat and have been developed to enable measurement in places where temperature changes are severe.
Principle of Water Quality Sensors
Water quality sensors are combined as needed to measure multiple water quality parameters, and the sensors used vary from instrument to instrument. Therefore, calibration methods, handling precautions, and the service life of each part vary from device to device. The major measurement items of water quality sensors and their significance are explained below.
pH (Hydrogen Ion Concentration)
pH represents the basic properties of water. River water basically shows a pH value of around 7, but since it varies depending on the location and conditions, it is considered a major item in water quality surveys.
ORP (Oxygen Reduction Potential)
This indicates the potential determined by the balance between dissolved oxidants and reductants. It indicates the oxidizing or reducing potential of water and is measured in a similar way to pH.
DO (Dissolved Oxygen)
Indicates the amount of oxygen dissolved in the water. This value varies depending on temperature, salinity, and atmospheric pressure. Since living organisms in water consume the oxygen dissolved in the water to survive, it is used as an indicator of the ease of survival of living organisms.
EC (Electrical Conductivity)
This is an indicator of the conductivity of electricity in water. Pure water does not conduct electricity, but the more electrolytes there are in the water, the easier it is for electricity to pass through and the higher the EC. For example, the more nitrogen, etc. dissolved in wastewater, the higher the EC.
*Including some distributors, etc.
*Including some distributors, etc.
Derivation Method
The ranking is calculated based on the click share within the water quality sensor page as of March 2023. Click share is defined as the total number of clicks for all companies during the period divided by the number of clicks for each company.