This section provides overview, applications, and principles of wiring ducts. Also, please take a look at the list of 10 wiring duct manufacturers and their company rankings.
What Is a Wiring Duct?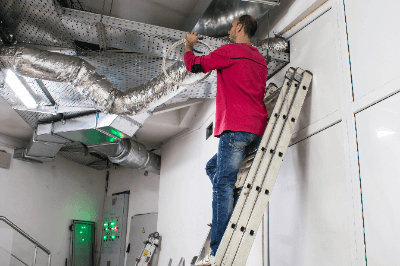 A wiring duct is used to store the wiring of switchboards, distribution boards, lighting fixtures, and other equipment together inside to secure and protect the wire routing.
A wiring duct generally takes the form of a square cylindrical housing, as shown in Figure 1, for example. A wiring duct for wiring indoor lighting fixtures, such as those used in stores, often have a rail shape with only one or a few thin wires running through it, as shown in Figure 2.
In addition to wiring duct, other common names for such shapes include lighting rails and duct rails. In addition to grouping and protecting wiring and ensuring routing, such lighting rails also serve to maintain aesthetics.
When hanging a hanging light fixture, such as a ceiling light, a hook-and-loop ceiling with a power source may be used instead of a wiring duct.
Uses of Wiring Ducts
Wiring ducts, as mentioned above, are components used to organize electrical wires.
Outdoors, it is often used for wiring for solar power generation. It is also commonly used in conjunction with transformer cubicles for supplying electricity to large buildings such as buildings and commercial facilities, and in switchboards that actually transmit electricity to power sources. Since distribution panels are often installed outdoors along with cubicles, wiring ducts are also used outdoors.
Wiring ducts used outdoors are exposed to rain and wind, and therefore, ducts made of waterproof and durable materials are suitable. In addition, ducts with double layers have been developed for outdoor use, with the outer layer having excellent weather resistance and the inner layer having self-extinguishing properties.
Wiring ducts are also used to protect wiring from distribution boards in houses to individual rooms and for lighting in houses and stores. For such wiring ducts, environmentally friendly, non-halogen materials that do not emit toxic gases when burned are suitable. In particular, products that do not use halogens, as specified by the EU RoHS law, are required.
Principle of Wiring Ducts
Wiring ducts are used to protect electric wires as well as to secure the routing of the wires by organizing them in such a way that they are not exposed.
For this reason, as mentioned above, many ducts for outdoor use are made of materials that are resistant to rain and wind, waterproof, and are not easily affected by weather conditions.
On the other hand, for indoor use, materials that are particularly reliable against fire are preferred, and materials that do not emit toxic gases when burned are used.
Wiring Ducts Materials
Depending on the location and application of the wiring ducts, flame resistance, weather resistance, etc. are required, so it is necessary to select the appropriate material for the application.
1. Aluminum
Wiring ducts made of aluminum are surface treated with anodized aluminum to enhance corrosion resistance. They are 30% lighter than their steel counterparts for the same size and construction.
2. Polyphenylene Oxide (PPO)
Polyphenylene oxide is a halogen-free material. However, ether, gasoline, and organic solvents may cause cracking, so care must be taken when using this material.
3. Polypropylene
Polypropylene is another halogen-free material that is environmentally friendly. It has high oil resistance and flame retardance, and because it is lighter than stainless steel and other materials, it is used in aircraft and railroad cars, contributing to weight reduction.
4. Polyvinyl Chloride (PVC), Rigid PVC
Both polyvinyl chloride (PVC) and rigid vinyl chloride are commonly used materials. They are halogen-used materials, although they are resilient and do not corrode. However, materials with enhanced insulation and self-extinguishing properties have also been developed.
Wiring Ducts Shapes and Installation Methods
Wiring ducts generally come in the form of a square cylindrical enclosure as shown in Figure 1, but products with holes on the sides and bottom are also often used. However, since dust and other particles can enter through these holes, products without holes or other processing are suitable for locations where dust tends to accumulate.
In addition, wiring ducts are generally shaped with a cutout in the vertical direction of the pipe or with a hole drilled with nippers, etc., to facilitate wiring inside.
There are also different types of wiring ducts installation methods.
1. Direct-Ceiling Type
This type is directly attached to the ceiling and is the most common type of wiring ducts. It is easy to install.
There are also many types of caps, such as the L-shape and T-shape, that connect the ducts and block the end points of the wiring ducts, so the wiring ducts can be freely arranged and the internal wiring can also be freely arranged.
2. Ceiling-Mount Type
This type is directly embedded in the ceiling, so unlike the direct-mount type, it can make the overall room look cleaner.
3. Ceiling-Suspended Type
This type is used in rooms with high ceilings and allows the light fixture to be installed in a low position.
4. Simple Installation Type
This is a convenient product that can be installed at the point where electrical wiring is connected, such as a ceiling or rosette, in a typical home.
As you can see, wiring ducts can be installed in a variety of ways, depending on the application and your preference.
Also, there are a variety of materials and colors to choose from, so you can select the one that best fits your preferences, taking into consideration the installation method, material and color, and the location where it will be used and the lighting fixture.
Differences From Raceways
Raceways are a common component for installing lighting fixtures other than wiring ducts, and the differences between the two are described below.
First, the most important feature of a raceway is that it functions to supply electricity.
Therefore, they are used as equipment used to install fluorescent lights, etc., and are often used in factories and warehouses. And in general, those with a width of 5 cm or less are classified as raceways, while those with a width of more than 5 cm are generally classified as wiring ducts.
Wiring ducts are often installed in homes as well as in cafes and boutiques that require spotlights and downlights to enhance the mood of the room, and can be easily installed and removed, so that lighting fixtures can be moved or changed in type according to their intended use.
Raceways, on the other hand, are mainly used in factories and warehouses, so they do not require as much support for moving and changing types of lighting fixtures as wiring ducts, and do not have as many features to accommodate replacements.
*Including some distributors, etc.
*Including some distributors, etc.