This section provides overview, applications, and principles of shock absorbers. Also, please take a look at the list of 23 shock absorber manufacturers and their company rankings.
What Is a Shock Absorber?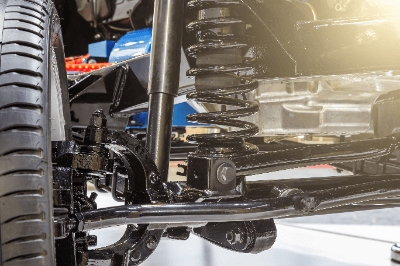 A shock absorber is a device that reduces vibrations in vibrating machinery and buildings.
Passenger cars, such as cars and buses, and motorcycles, such as motorcycles, use shock absorbers to reduce the impact from the ground, in addition to suspensions.
Shock absorbers are equipped with springs, which absorb shocks and provide a comfortable ride and smooth steering.
If the shock absorber becomes old or malfunctions, it will not be able to absorb shocks, making it difficult to brake or turn corners.
Uses of Shock Absorbers
Shock absorbers are installed in vehicles such as cars, buses, motorcycles, and trains to absorb the shock of traveling on the ground.
Cylinder-type telescopic shock absorbers are used for passenger cars, while ride-height adjustable shock absorbers with variable spring positions are sometimes used for motor sports cars and other vehicles with low ride height.
Oil dampers and seismic isolation dampers are also used for vibration control of houses and other buildings.
*Including some distributors, etc.
*Including some distributors, etc.