This section provides overview, applications, and principles of chip resistors. Also, please take a look at the list of 38 chip resistor manufacturers and their company rankings.
What is a Chip Resistor?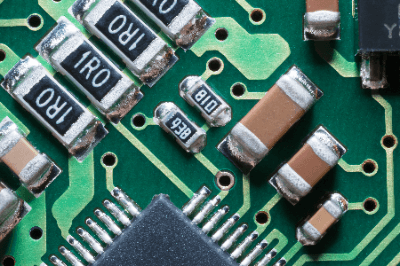 Chip resistors, also called surface mount resistors, are rectangular resistors.
Chip resistors are classified by shape, material, and outer packaging, etc. In recent years, as electronic devices have become smaller and more sophisticated, surface-mount type chip resistors have become the mainstream.
Chip resistors, in particular, are resistors with terminals that can be soldered, bonded, or both, and have no lead wires.
Uses of Chip Resistors
Resistors are the most commonly used electronic components in electronic circuits, adding resistance to the circuit to prevent the flow of current.
They are indispensable electronic components in all fields, including automotive electronics, measuring instruments, and the IoT. In addition, a noticeable trend is the rapid growth of adoption in the mobile communications field, especially in cell phones and smartphones.
Chip resistors are being solved in a variety of products to suit different purposes and applications, so it is necessary to determine the performance and characteristics of resistors to be used in different situations.
*Including some distributors, etc.
*Including some distributors, etc.