This section provides an overview for ceramic 3d printers as well as their applications and principles. Also, please take a look at the list of 8 ceramic 3d printer manufacturers and their company rankings. Here are the top-ranked ceramic 3d printer companies as of December, 2023: 1.StoneFlower3D, 2.3DCERAM SINTO, 3.3D Potter.
What Is a Ceramic 3D Printer?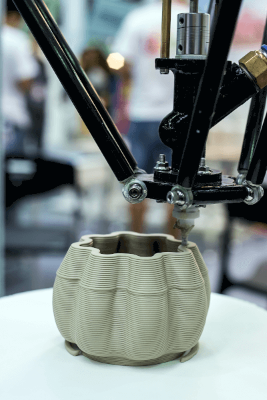 A 3D printer is a device that produces three-dimensional models by stacking sliced ​​2D cross sections one layer at a time based on design data such as 3D CAD.
A ceramic 3D printer is a type of 3D printer that uses ceramic, porcelain, glass, cement, or other inorganic compound materials as its primary printing materials.
There are other types of 3D printers, such as metal and plastic, but compared to metals and plastics, ceramic 3D printers have a wide range of applications because they can combine various elements and realize a wide range of properties. For this reason, demand for ceramic 3D printers has been increasing in recent years.
Uses of Ceramic 3D Printers
Ceramic 3D printers are used in various fields because they can produce parts with complex shapes and hollow structures that cannot be produced using conventional manufacturing methods. They are also suitable for prototyping.
In the manufacturing industry, 3D printers are used for prototyping and final product modeling when using ceramic parts as replacements for existing parts and for high-mix, small-lot production of custom parts; and in the decorative industry, for modeling complex and highly original designs.
Ceramic 3D printers are also used in the decorative industry to create intricate and creative designs.
Principle of Ceramic 3D Printers
There are various methods of creating ceramic parts and products with ceramic 3D printers. However, the following two methods are currently the most common:
Binder jet method:




In this method, a UV-curable resin binder is injected from an inkjet head, and powdered ceramic materials are layered one layer at a time.

The UV laser can selectively cure ceramic materials, enabling complex modeling.
Optical Fabrication Method:




This is the oldest of the 3D printer methods, in which the table is immersed in a pool of liquid UV-curable resin, pulled out of the pool, and irradiated with UV light to create layers layer by layer.
The optical fabrication method is further divided into stereolithography (SLA), which uses a UV laser beam, and digital light processing (DLP), which uses a projector to apply UV light to the surface.
The optical fabrication method is suitable for manufacturing prototypes, jigs, and molds because of its high speed and high accuracy.
*Including some distributors, etc.
*Including some distributors, etc.