This section provides overview, applications, and principles of barcode printers. Also, please take a look at the list of 2 barcode printer manufacturers and their company rankings.
What Is a Barcode Printer?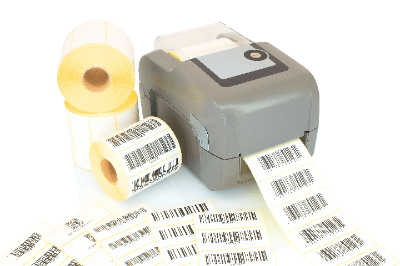 A barcode printer is a device that directly prints bar codes, which represent various types of information in bars and numbers, on specific paper or, in some cases, on product containers.
There are a wide variety of barcode printing methods, ranging from the traditional impact method to heat-based methods, as well as inkjet methods such as those used in general office automation printers.
Since each method has its own merits and demerits, it is important to select the most suitable barcode printer for each application.
Uses of Barcode Printers
Barcode printers are used for almost all barcodes printed on industrial products.
For example, when printing large quantities of identical labels such as price tag information, the drum impact method is used, in which the original barcode shape is created on a drum and printed as if it were transferred. However, this method has the disadvantage of being difficult to maintain because it transfers the barcode directly from the machine.
In the food industry, other methods, such as the thermal method, are used to flexibly handle a wider variety of barcode printing.
Principle of Barcode Printers
There are various types of barcode printing methods, of which "thermal" and "inkjet" are the most common.
1.Thermal Barcode Printers
Thermal barcode printers has thermal head, which is a bar-shaped part with the same length as the barcode, and thermal paper flowing gently in contact with it. The required barcode thickness can be easily expressed by controlling the speed at which the thermal paper flows and the time it takes for the thermal head to heat up. In addition, since the thermal paper on the side to be printed directly changes color, the consumable ink ribbon required for general printing methods is not necessary, allowing for low-cost operation.
2.Inkjet Barcode Printers
Another well-known method is the inkjet method. In the inkjet method, ink is irradiated at high speed from a nozzle and controlled through a gap in the deflector plate to the desired printing location to represent the barcode. Unlike other methods, this method prints without directly touching the material, making it possible to print barcodes on materials other than paper, which was not possible with conventional methods.
Other Barcode Printers Information
1.Handy Type Barcode Printers
As you have probably seen at the cash registers of convenience stores and supermarkets, there is handy type of barcode printers, also called a portable mobile type. When you buy a box of goods, there is a barcode on the box, and this barcode is attached to a sticker that is output by handy type barcode printers. Recently, it has also become possible to read barcodes printed on metal and resin, which has been difficult with the handheld mobile type until now. Handy barcode printers make it possible for anyone to easily print barcodes anytime, anywhere, contributing to inventory control, improved work efficiency, and the prevention of human error.
2.Label Printers
This section describes label printers, especially how to select one. For those who are not sure which commercial label printer to choose, there are three simple points to check. When choosing a commercial label printer, it is best to focus on the "label application period," "whether to issue from a PC or a printer," and "how many labels will be issued each day."
First, as for the "label application period," thermal discoloration occurs if the labels are attached for a long period of time, so a thermal transfer printer is recommended if the labels will be attached for a long period of time. Thermal transfer printers print by thermal transfer of ink ribbon print solution onto plain paper labels. Unlike thermal paper, labels do not tarnish over a long period of time. If the label application period is not long, thermal printers are recommended because they are low-cost and do not require ink ribbons. Second, regarding whether to use a PC or a printer for label printing, there are two types of commercial label printers: those that are connected to a PC and register data and issue labels from the PC, and those that register data from the PC and issue labels on a printer. There are three types of printers that can register data and issue labels entirely from a printer.
The type that can issue labels using only a printer saves space, but is more expensive than the type that issues labels from a PC. Please select the one best suited to your environment of use. Finally, consider the number of labels to be issued per day and the running cost. Compare and consider whether you should choose a printer with a lower price or one with lower prices for consumables such as labels and ribbons, based on the number of sheets you issue each day.Bar
*Including some distributors, etc.
*Including some distributors, etc.