This section provides an overview for timing belts as well as their applications and principles. Also, please take a look at the list of 9 timing belt manufacturers and their company rankings.
What Is a Timing Belt?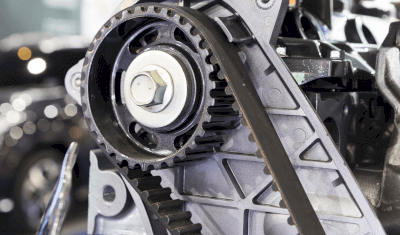 A timing belt, also called a toothed belt, is a belt used to transmit drive. The belt has teeth that engage with the teeth of the pulleys to prevent slippage. A timing belt has different standards depending on the shape and size of the blade, which must be matched to the shape of the pulley teeth. A timing belt is made of polyurethane, nitrile rubber, or other materials. When high torque transmission is required, glass fiber or aramid fiber is blended into the core wire to increase strength and reduce belt elongation.
Uses of Timing Belts
Timing belts have no slippage and are not subject to the phase shift between two or multiple axes of rotation. This feature is utilized in a wide variety of applications.
Timing belts are used to connect crankshafts and camshafts in car engines to ensure that the regular rotation of the engine and the crankshafts and camshafts are always synchronized.
In printers and other devices that use rollers to feed paper with precision, timing belts are used to connect the motor and multiple rollers to transmit drive.
They are also used in applications where an attachment is attached to the timing belts to convert the motor's power into linear motion.
Principle of Timing Belts
The characteristics of a timing belt include the following:
Because timing belts have low elongation, they are initially tensioned and assembled at the proper tension, which often eliminates the need for periodic tensioning maintenance during use.
Because timing belts do not require lubrication, they can be used in environments where oil is not preferred. They also do not require periodic lubrication or a lubrication function within the mechanism.
The timing belts are made of polyurethane or nitrile rubber, which requires less weight and reduces inertia compared to metal chains. The elasticity of the material also makes it relatively low noise in drive combinations with pulleys.
Timing belts have low backlash when meshing with pulley teeth, and some types are backlash(less), making them suitable for high-precision positioning applications. There are some precautions to be taken when synchronizing multiple axes. There is a slight difference in belt movement between the tension side and the slack side of the belt. This difference may increase when a long pitch belt is used or when an auto-tensioning mechanism using a spring is installed.
*Including some distributors, etc.
*Including some distributors, etc.