This section provides an overview for drilled screws as well as their applications and principles. Also, please take a look at the list of 9 drilled screw manufacturers and their company rankings.
What Is a Drilled Screw?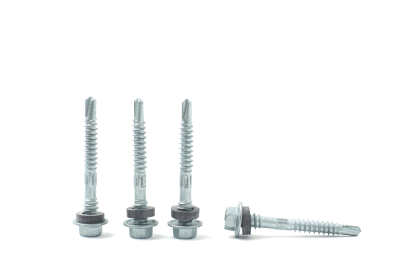 A drilled screw is a product in which the screw is drilled and can be screwed in place without pre-drilling or threading.
Normally, to tighten a screw, a cut (a pre-hole) is required on the receiving side of the screw to match the thread groove. The process of drilling such a pre-hole is called threading.
However, if drilled screw is used, the aforementioned threading work is not necessary, and screw tightening work can be performed without a threaded hole. The drilled screw itself advances while drilling a hole to fasten a mating material.
Uses of Drilled Screws
Drilled screws are often used to fasten steel frame members at construction sites.
Drilled screws can be used in a variety of ways, but the following is an example of a proper use.
When boards are placed between the upper and lower, two sheets of sheet metal.
When the shoulder of the drilled screws penetrates the lower sheet metal, the screw should not rest on the upper sheet metal. For example, if the screw rests on the upper sheet metal when the drilled screws penetrates the lower sheet metal, the upper sheet metal will come up during screw tightening, creating a gap, or the drilled screws will chip or break, resulting in a poor fastening.
Characteristics of Drilled Screws
There are many types of drilled screws, and they are used for different purposes.
Typical types of drilled screws and their characteristics are listed below.
Head Shape: Pan
This is the most common type of drilled screws with pot-bottom shaped head and good cold formability.
Head Shape: Hexagonal
High torque transmission force and less likely to cam out. Suitable for large diameter screws.
Head Shape: Flat
Flat head shape. Used to improve appearance since there is no sticking after fastening.
Head Shape: Flexible
Ribs are formed on the seat surface. It is easy to sink into hard boards.
Head Shape: Truss
The head diameter is large and can strongly press down on the fastener.
Screw Shape: Tapping
This is the most common drilled screws shape. Widely used for fastening lightweight steel frames.
Threaded Profile: Machine
Even if the base material is thin, the required holding force can be secured, and loosening is difficult. The outside diameter of the screw can be reduced due to the easy retention force, thus reducing the screw tightening torque.
*Including some distributors, etc.
*Including some distributors, etc.