This section provides an overview for binding machinery as well as their applications and principles. Also, please take a look at the list of 10 binding machinery manufacturers and their company rankings.
What Is Binding Machinery?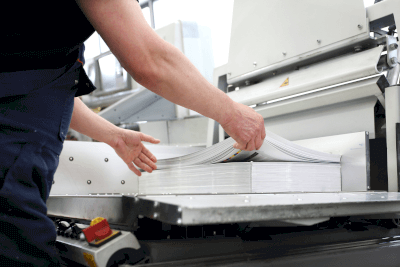 Binding machinery is used to bind paper into a book or booklet by gluing or stitching (like staples).
There are various types of binding methods, such as saddle-stitching, flat-stitching, radio-frequency binding, top-binding, ring-binding, and tape-binding. Each type has different characteristics.
There are also many printers and multifunctional peripherals (MFPs) with bookbinding functions. Binding machines range from small, simple office machines to large, high-speed machines for commercial and industrial use.
Uses of Binding Machinery
Bookbinding machines are used to produce books. The types of books that can be bound are classified according to the binding method and are introduced below according to the binding method.
Saddle-stitch binding (walnut binding) is used for catalogs and magazines with a small number of pages. The book is bound by stitching at the center of the outer fold of the cover.
Flat binding is used for manuals, textbooks, and proposals.
Wireless binding is used for thicker catalogs, textbooks, information magazines, etc. The spine of a stack of folded pages (paper folded to the size of a single page for binding) is glued together to form a bound book.
A top-bound book is a so-called hardcover book, which is used for albums, books, etc.
Ring bindings are used for sketchbooks, ring notebooks, and other documents. This binding process involves punching holes in the original document and fastening it with plastic or metal spiral rings.
Principle of Binding Machinery
The following is a description of the principles and features of binding machinery, by binding method.
Saddle-stitch binding
Saddle-stitch binding is a binding method in which the sheets are stacked on top of each other in the facing position, stitched together in the center, and then folded in half. Due to the stitched binding, saddle-stitch binding is not suitable for books with numerous pages. Saddle-stitched books open tightly to the base of the book when opened, making them easy to read when two pages are used for photographs or illustrations.
Flat Binding
In the flat binding process, stitches are applied around 5 mm from the edge of the stacked folded pages, then glue is applied to the spine and the cover is attached. Due to the stitched structure, the book cannot be opened all the way to 180°. This type of binding is suitable for booklets with a large number of pages.
Wireless Binding 
In radio-fast binding, the spine is glued over the folded pages, and the book is wrapped with a cover. It is often used for product catalogs with many pages. While it is suitable for booklets with a large number of pages, booklets with too few pages may have pages that fall out due to the small amount of glue applied to the spine.
Top-binding
A thick, stiff cover and pages are bound using binding thread and glue. The thick, hard cover is called a hardcover, and the core is made of cardboard. The core is often wrapped with thin paper, but it is sometimes wrapped with leather or cloth to give a luxurious look.
Ring Binding 
Ring-bound books are bound by overlapping sheets, punching a hole in the spine, and inserting a plastic or metal ring. Ring-bound books can be opened 360° and are easy to use because the opened pages do not close on their own.
*Including some distributors, etc.
*Including some distributors, etc.