This section provides overview, applications, and principles of transfer machinery. Also, please take a look at the list of 2 transfer machinery manufacturers and their company rankings.
What Is a Transfer Machinery?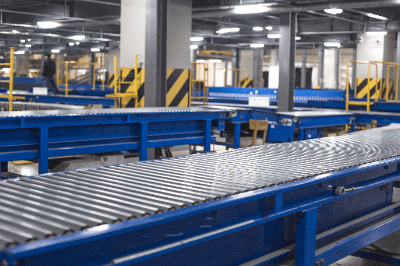 Transportation equipment is used for conveying and sorting in warehouses and moving workpieces in factories. Most conveyor-type transportation equipement is based on belts or chains, but some manufacturers also include vertical elevators, AGVs (automated guided vehicles), overhead conveyor systems, and other types of conveyor systems in the category of transportation equipment.
Conveyor equipment carries a wide variety of items, including heavy, large parts and components, lightweight, small semiconductors, and fragile foodstuffs, and the shapes, materials, and motor characteristics are designed to ensure stable conveyance of each item.
Uses of Transfer Machinerys
Transfer Machinerys are indispensable for transporting large parts such as automobile panels and tires. Conveyors are also used in large factories.
Food factories do not like the growth of live bacteria, so stainless steel belts are used to prevent the growth of bacteria. Stainless steel has excellent chemical resistance, making it resistant to disinfection, and it is also heat resistant.
In addition to conveyor-type, suction-type conveyors are also used for powders and small parts.
Principle of Transfer Machinerys
This section describes conveyor belt conveyors that are driven by a motor. The belt is slowly rotated by a motor to convey objects placed on the belt.
1. Belt Material
Resins such as polyurethane and Teflon are mainly used. Depending on the application, materials with good oil resistance, heat resistance, antistatic properties, and slipperiness are selected.
2. Belt Shape
Flat belts are inexpensive and are used in many places for transporting lightweight materials. Mesh belts are suitable for conveying materials with chemicals, oil, or water adhering to their surfaces. Plastic chains can convey relatively heavy or wide objects.
3. Motor Drive Position
The head drive type is a basic drive system that is often used and features easy belt adjustment. The intermediate drive type is easy to adjust the tension and to refurbish around the conveyor. The motor built-in type has a motor built into the belt and can be used in confined spaces.
4. Motor Types
Leversible motors are used for forward and reverse operation, and stepping motors are used for operation requiring positional accuracy.
Conveyor Robots
In many production sites, there are many processes that involve transporting products and parts on a daily basis.
Most of these processes are still carried out by people.
Therefore, transfer robots have been developed to automate this process by using robots instead of people.
The advantages of transfer robots are that they are faster than humans, more accurate, and can operate 24 hours a day.
SCARA (vertically articulated) robots sold by Seiko Epson and others are actually used as transfer robots at production sites of food manufacturers, parts manufacturers, and others.
They are used for simple tasks such as pick-and-place operations and moving items from one conveyor belt to another.
Types
Types of conveyor Transfer Machinerys include lifting equipment, conveyor transports, conveyor robots, and automated guided vehicles (AGVs).
Lifting equipment is used in factories and warehouses. They can transport objects ranging from small objects weighing a few kilograms to large objects such as automobiles. They can also safely transport loads due to their simple mechanism.
Conveyors are mainly used in manufacturing lines. There are electrically or pneumatically operated types, and non-powered types that roll on rollers at an incline.
Automatic guided vehicles (AGVs) can travel precisely along a predetermined route by reading magnetic tape on the floor or a QR code with a camera module.
*Including some distributors, etc.
*Including some distributors, etc.