This section provides an overview for automatic guided vehicles as well as their applications and principles. Also, please take a look at the list of 14 automatic guided vehicle manufacturers and their company rankings.
What Is an Automatic Guided Vehicle (AGV)?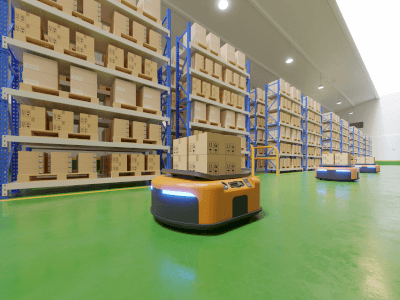 An automatically guided vehicle (AGV, Automatic Guided Vehicle) is generally a cart that is automatically guided by magnetic tape or magnetic markers installed on the floor, which exerts a magnetic force.
The route can be freely determined by the method of laying magnetic tape or magnetic markers, and the vehicle can run unmanned.
They are intended to transport goods such as cargo and are not to be used on roads as stipulated by the Road Transport Law.
On the other hand, with the advancement of AI and data analysis technologies in recent years, there is a growing number of autonomous vehicles that can determine their own travel routes without the use of magnetic tapes.
Uses of Automatic Guided Vehicles
Automatic guided vehicles are mainly used to efficiently transport cargo at logistics sites.
The technology started around 1990, when magnetic tapes were laid down on factory production lines to allow the vehicles to travel along a fixed route.
However, this method required the removal and re-installation of guideways when the route to be traveled needed to be changed.
In recent years, however, autonomous vehicles have been gaining popularity because they do not need a guideway, and their AI makes decisions on their own, enabling them to efficiently transport goods with fewer errors.
Principle of Automatic Guided Vehicles
Automatic guided vehicles are generally classified into three main types:
1.Automatic Guided Vehicles
This system uses tape magnetic, magnetic markers, or other guidance devices to guide the vehicle along a route. the guidance route. 
2.Autonomous Automatic Guided Vehicles
This method allows automatic guided vehicles to locate itself and move along its route to its destination without external guidance or control.
Self-positioning is achieved by measuring the distance to surfaces such as walls and pillars using lasers and cameras.
However, there is still room for improvement in terms of cost and environmental conditions that do not hinder unmanned vehicles, so the introduction of these vehicles is currently being driven mainly by large corporations. 
3. Tracking Type Automatic Guided Vehicles
This type of vehicle follows the person or vehicle ahead while maintaining a certain distance. As with the autonomous vehicle system, there is no need for a guideway, but the preceding vehicle must be controlled by a human operator.
*Including some distributors, etc.
*Including some distributors, etc.