This section provides overview, applications, and principles of indicators. Also, please take a look at the list of 150 indicator manufacturers and their company rankings.
What Is an Indicator?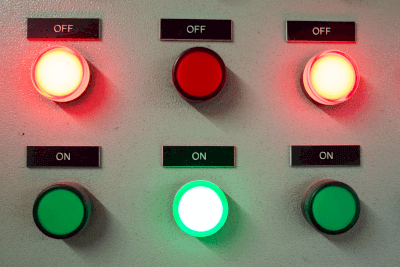 Indicators display the status of devices and other equipment using light. Generally, the term "indicator light" refers to electric indicators.
The history of indicators in the pure sense is long. Lighthouses are the oldest indicators in the sense that they were used to indicate navigation routes. They were in use as early as BC. Modern electric indicators began to be used in the 20th century and have become an indispensable part of daily life and industry.
The mechanism of indicator lamps has changed over time, from flames made from burning combustible materials to gas lamps, etc. Today, most indicator lamps are electric.
Usage of Indicators
The most typical indicators that everyone has seen are probably traffic signals. These lights are used to indicate that traffic is allowed to pass in green, proceed with caution in yellow, and not allowed to pass in red. Another familiar example is the rotating indicators on fire trucks and police cars. 
Rotating indicator lamps and operating status indicator lamps are also used in production sites in a wide range of applications.
Principle of Indicators
The principle of operation of indicator lamps has changed from the past to the present.
In the past, indicator lamps were made of bean bulbs. A miniature light bulb is a glass shell containing a light-emitting filament and an inert gas. When an electric current flows through the luminous filament, it produces heat and light at the same time. The bean bulb is covered with colored glass or resin to display a specific color. Bean bulbs have the disadvantage that if the inert gas inside is removed, the filament burns out or otherwise malfunctions. In the rotating indicator light, a motor for rotation is used at the same time as the bean bulb. The motor rotates the reflector so that it circles the light bulb to attract attention. While rotating indicators are more conspicuous than ordinary indicators, they have the disadvantage of requiring more parts due to the built-in motor.
Currently, LED indicators are the mainstream choice, as LEDs are diodes that emit light when voltage is applied, and unlike filaments, they generate little heat, resulting in long life and high efficiency. In recent years, LED indicators that blink repeatedly have been sold in place of rotating lights.
*Including some distributors, etc.
*Including some distributors, etc.